Walk and Bike to School Day 2017 saw a record number of Arlington Public School (APS) employees who walked and biked to school. A total of 195 staff participated, a 66% increase in staff numbers since 2015, the first year Arlington Transportation Partners (ATP) incentivized staff participation.
As more APS employees incorporate active transportation into their commutes, they steadily create a new biking and walking culture amongst their colleagues and in their community. A special mention goes to the top five schools with the most staff participation this year – Yorktown High School (23), Henry Elementary School (16), Barrett Elementary School (15), Nottingham Elementary School (15) and Swanson Middle School (13).
Schools are building bike cultures in unique ways, often inspired by their participation in Champions and through support from ATP.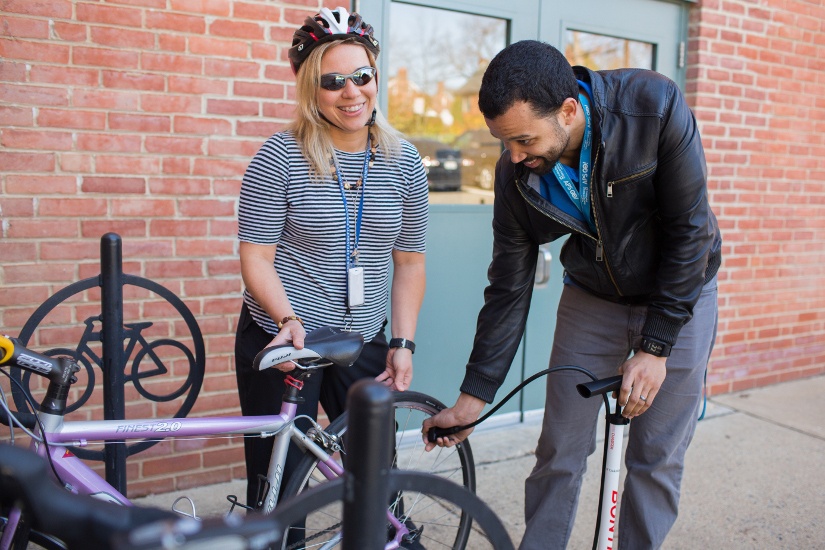 Bike Clubs by and for Staff
At Yorktown High School, a handful of experienced bike commuters formed a staff bike club and support colleagues new to biking. The staff bike club is so engaged that 15 employees biked on Bike and Walk to School Day last May, earning them onsite bike tune ups in August courtesy of ATP.
Inspired and riding freshly tuned up bikes, Yorktown staff hit it out of the park again when 23 signed up for Walk and Bike to School Day 2017. Yorktown has fostered a school culture where staff of different departments and disciplines spend time together and strengthen comradery.
Changing Habits by Example
Oakridge Elementary School received Silver Level Bicycle Friendly Business designation from the League of American Bicyclists in part for the staff Commuter Lounge, which has inspired several teachers to try biking to work for the first time.
On Walk and Bike to School Day 2017, Oakridge Elementary School teacher Belinda Folb almost didn't bike to work, but she wasn't about to let a small problem stand in her way. Ms. Folb started biking last spring when Oakridge created the Commuter Lounge and really enjoys her bike commute. She was still close to home when her bike chain popped off her bike. Although she considered turning around and going home to get her car, she Googled instructions and fixed it on her own instead.
"This was just a bump in the road, but I am glad that I didn't just give up and take my car. My students were impressed too," she said.
Taking Advantage of Local Resources
Increased awareness amongst staff of bike facilities in Arlington helped a fledgling cyclist get home. Discovery Elementary School teacher Keith Reeves started biking to work in support of the school's Eco Code, which promotes sustainable transportation options.
One recent beautiful September day, he broke his bike chain and realized he had neither the skills nor the tools to fix it. He was near Phoenix Bikes and ran over to get help and met a fellow teacher working there. Knowing local resources as well as fellow bike commuters made his day and his commute.
Mr. Reeves said of the experience, "It was Discovery's first Two Wheel Tuesday of the year. It could have been a tough one but instead, it was a memorable and terrific little detour!"
Building Your School's Bike Culture
Discovery, Oakridge and Yorktown all worked with ATP by participating in Champions for the last few years to build up their walk and bike culture. These schools are creating a new culture with the support of ATP, the awareness of benefits and amenities and the encouragement of their colleagues. Through Champions, your school can also take its first step (pun intended!) towards an active transportation culture.
Photo Credit: Reema Desai/ReemaDesai.com for Arlington Transportation Partners