Arlington County has long been a model of transit-oriented development since the late 1970s, with county planners and developers focusing higher density development around the new Metrorail stations – a concept that continues today in Arlington's "urban villages". The neighborhoods of Crystal City, Ballston, and Rosslyn in particular have become top destinations in Arlington, not only because of their transit-rich locations, but also through the work of their Business Improvement Districts (BIDs). These organizations have been incredibly active over the last few years in transforming their local communities into vibrant and attractive areas to live, work, and play.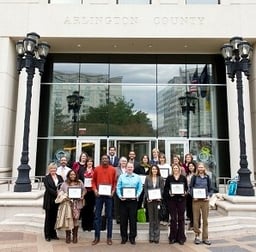 For years, Crystal City has been a hub for government contractors due to the neighborhood's proximity to the Pentagon and other federal government offices. However, since the Crystal City BID was established in 2006, the urban village has become an exciting destination for cultural events and community activities. The BID has also been a strong proponent of sustainable transportation, encouraging biking, walking, and the use of public transportation – they host "Bike to Work Week" events each year and partnered with ATP for National Walk at Lunch Day in 2013. In addition, the Crystal City BID was a major partner with Arlington County in supporting the installation of several Capital Bikeshare stations in the neighborhood and was recently recognized as a Workplace Commute Champion by ATP.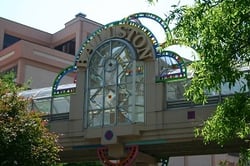 Ballston's newly-formed Business Improvement District has already been making headlines for its programs and strong support from the business community. The BID has billed the neighborhood as a "community of innovation" due to the presence of several science and technology companies, numerous university satellite campuses, and a relatively young resident population. In addition, the BID created the Ballston LaunchPad program last year to support startup businesses and foster creativity and ideas throughout the community. As a follow up in 2014, the BID has announced "The Restaurant Challenge", a program designed to showcase experienced chefs and their business plans, with the winner being offered a free year's lease in Ballston for their restaurant. Finally, with a WalkScore of 90 and a transit hub with two Metro lines and nearly 20 bus routes, the urban village has become even more accessible and convenient to workers and residents in the area.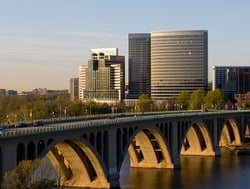 While Rosslyn has one of the highest levels of Metro ridership among Arlington stations, the area's street design has historically been more car-centric due to the convergence of major freeways and thoroughfares surrounding the neighborhood. However, the Rosslyn BID has been engaging with multiple stakeholders to change that. By partnering with Arlington County on the Realize Rosslyn plan and creating a strategic plan through its own focus groups and outreach, the BID has been working to transform Rosslyn into an attractive destination with street life, restaurants, and community events. The BID already has a successful seasonal farmers market, collaborates with the Artisphere on numerous cultural performances and events, and has greatly enhanced its website, newsletter, and branding to improve communications with residents, businesses, and property managers.
By taking advantage of their accessible and transit-oriented locations, these BIDS have helped create vibrant and walkable places, promoting economic development as well as centers of social and cultural activity.