Want to impact the future of transportation in Arlington County? Here's your chance. Take the survey and provide your feedback. Your comments and answers will directly impact the Transit Development Plan for 2017-2026.
Arlington County is preparing its Fiscal Year 2017-2026 Transit Development Plan and needs your feedback regarding desired changes to ART and Metrobus service within the County. Suggestions regarding Metrorail, Metro Access and STAR will also be recorded.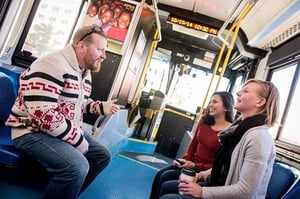 The Transit Development Plan will:
Identify transit goals
Prioritize improvements
Include recommendations for new transit service on the Columbia Pike and Crystal City-Pentagon City corridors
>> Take the survey today and provide your feedback. The survey will close on May 15, 2015. The survey is now closed. Thank you for your input.
Initial recommendations on service and capital enhancements will be available in late fall 2015.
This content was originally posted on ArlingtonTransit.com.