This past September, Arlington County approved a pilot program to study the use of dockless bikes and e-scooters throughout Arlington. This follows on the heels of a similar pilot project last year in the District of Columbia and currently only Bird and Lime are participating in Arlington's pilot. While Arlington residents may be familiar with seeing these devices on their streets, now is a good time to provide a full understanding of how they operate, and what Arlingtonians can expect from the upcoming pilot program.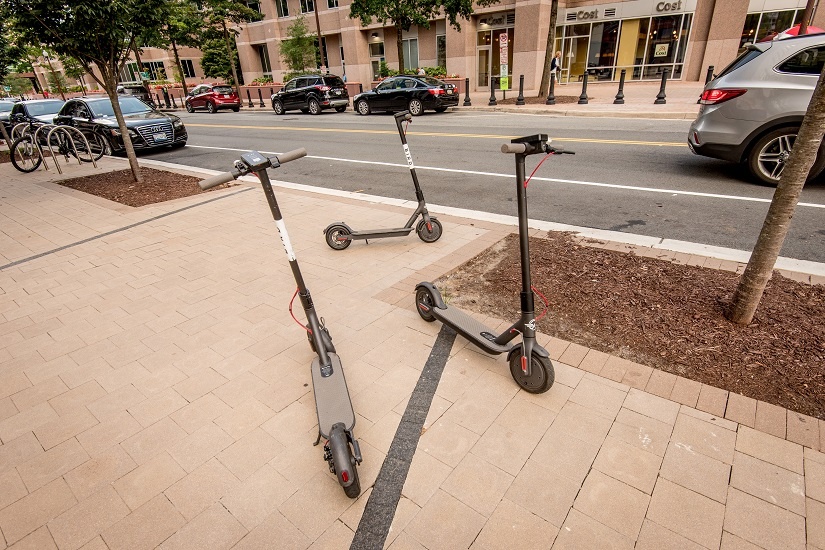 What are Dockless Bikes and e-Scooters?
These devices are a network of bikes and e-scooters that riders can access for short one-way trips. Unlike a rental service, where you take one bike for the whole day, dockless bike and e-scooter riders tap into a network to pick up a device when they need it, and end a trip when they reach their destination.
Know the difference
Capital Bikeshare is the DC area's docked bikeshare program. Riders must pick up a bike and end a trip at a docked station, near their trip start and end.
Dockless bikes and e-scooters don't have homes like Capital Bikeshare. Riders can find and unlock individual bikes or e-scooters on the corresponding app, and then leave them wherever is most convenient (and lawful), like on the curb of a sidewalk or near a bike rack.
Using dockless in Arlington
Each operator has its own app to locate and unlock bikes or e-scooters, but with apps that gather all mode options like Transit or Citymapper, riders can see all available devices and open the corresponding app to start a ride.
The rider experience on each device varies by company, but below is important information for pilot operators and those hopefully coming soon to Arlington.
Currently in Arlington
Bird e-scooters: $1 to unlock, $.15/min
Lime e-scooters: $1 to unlock, $.15/min
Lime bikes: $1 to unlock, $.05/min
Currently in Washington, DC; hopefully launching in Arlington soon
JUMP e-bikes: $2 for first 30 mins, $.07/min after that (have not launched in Arlington yet)
Lyft e-scooters: $1 to unlock, $.15/min
Skip e-scooters: $1 to unlock, $.15/min
Parking in Arlington
Arlington County has provided guidance on where to park a dockless bike or e-scooter. The ideal place to park is along the sidewalk adjacent to an existing bike rack, or near the curb. Unacceptable places to park include: blocking travel lanes or walkways; blocking driveways or wheelchair ramps; blocking fire hydrants or bus stops; and blocking building entrances or pedestrian call buttons.
Additionally, do not park on private property unless the dockless bike or e-scooter company specifically allows it at a certain location. Parking in the correct location is important to ensure accessibility for all road and sidewalk users.
Safety First
Both Bird and Lime stress the importance of safety when using their devices and require that users abide by the following two rules:
Riders must be 18 years of age with a valid driver's license
Riders must follow all traffic rules including street and stop signs.
Other safety features such as wearing a helmet and being predictable, alert, and lawful are also strongly recommended.
Be in the Know
Arlington Transportation Partners (ATP) understands that changes to transportation are happening quickly and that it can be difficult to stay informed. Whether it's a tenant roundtable or a lobby event with e-scooter demos, ATP wants to help you communicate the latest information and best practices to your tenants.
Contact your ATP representative to best understand how dockless will impact your business or property.
Photo Credit: Sam Kittner/Kittner.com for Arlington Transportation Partners