February 8-12, 2016, is Love the Bus Week, a national event hosted by the American School Bus Council to raise awareness and express appreciation of school bus drivers. Arlington Public Schools (APS) loves their buses and plans to celebrate throughout the entire week. Love the Bus Week happens right before Valentine's Day, and Arlington Transportation Partners agrees that showing school bus operators some love is the perfect way to celebrate both events.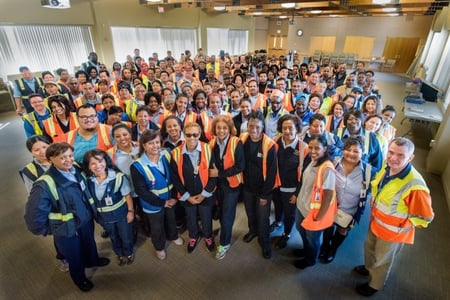 Riding the school bus is more than just an easy way to get to school. The benefits impact not just Arlington families, but the entire county. School buses are designed for maximum safety, from the bright yellow color and flashing red lights, to reinforced sides – making them safer than any other vehicle in which children ride! Arlington school buses also have stop-arm cameras, which take photos of vehicles that illegally pass the buses when stopped to pick up or drop off children. And did you know that the drivers and assistants learn behavior management techniques, so they can watch out for problems? All of Arlington benefits when students ride their assigned school buses as well, thanks to reduced traffic and therefore cleaner air. What's not to love?
This is also a good week to appreciate Arlington's own ART buses. These buses provide green, clean, dependable transportation to thousands of Arlingtonians every day, including APS students and APS staff. Students over the age of 12 can get discounted rides on the ART buses with special iRide SmarTrip cards, allowing them additional independence in a safe, reliable mode of transportation.
By now, every student has probably had the chance to ride a school bus, either to school, on a field trip or for extracurricular activities, so they know how fun it is to ride those big yellow buses. However, they might not think about those drivers and what goes into making a ride on the bus so much fun. These dedicated APS employees get up before the sun to get to the bus lot and then out on the streets while most of us are still asleep. They make sure that students get to class on time, ready to learn. Regular drivers get to know their students and parents, and offer smiling faces each day.
So show us your bus love during Love the Bus Week! On Twitter, use hashtag #APSBusLove and make sure to tag the Transportation Department (@APSSchoolBus) as well as Arlington Transportation Partners (@ATPCommutes). But remember – only take selfies with your driver after the bus has come to a complete stop!