This post is part of a series highlighting the ART bus lines throughout Arlington County and how both residents and visitors alike can take advantage of the ART bus system. Check out the other ART routes in this series here.
ART 41
A convenient commuting option between the western end of Columbia Pike and Courthouse, the ART 41 is a reliable way to traverse the County. Starting at S Dinwiddie and Columbia Pike with a quick loop past Tyrol Hill Park, this bus route continues up Glebe towards Ballston Common Mall before running through Clarendon into Courthouse.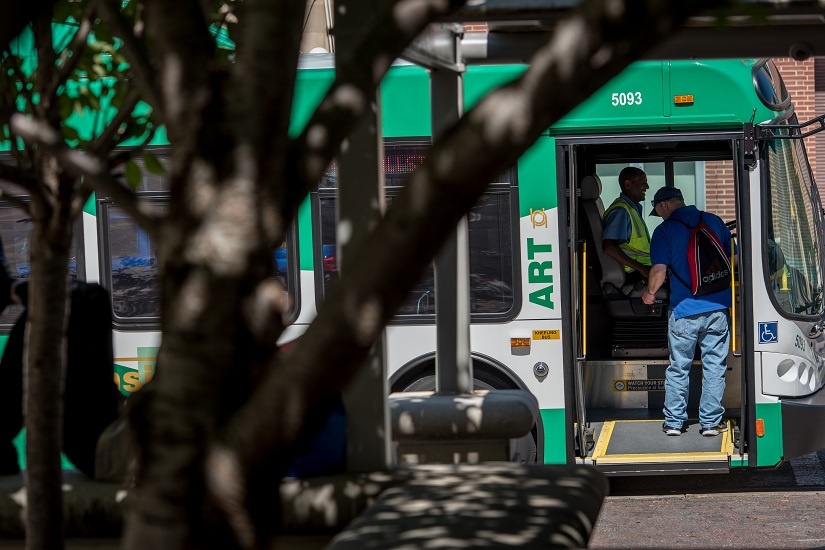 Route Highlights
Columbia Pike, Ballston Common Mall, and Clarendon shopping and dining
Urban Villages Served
Columbia Pike, Ballston, Virginia Square, Clarendon, and Courthouse
Route Timings
The ART 41 runs approximately every 15 minutes during the week with hours that extend from 5:30 a.m. and run into the wee hours, just after 1 a.m. Saturday hours start a bit later and on Sundays, service stops just after 10 p.m.
Note that on Saturdays, the Courthouse location stop is changed to be located in front of the Courthouse Metro Station on Clarendon Boulevard at S Uhle Street. Check here for real-time ride times or download a handy PDF with the route map and scheduled times.
Metro Station Stops
Jump on the Orange and Silver Metro Lines at Clarendon Metro and Courthouse Metro Stations. A short walk will also connect you to the Ballston Metro Station (alight at the Ballston Common Mall stop) and the Virginia Square Metro Station (Wilson Blvd at N Nelson Street).
Highlighted Stop
Although Ballston Common Mall on Randolph Street is in the beginning stages of a massive renovation and rebranding into Ballston Quarter, the area around it is full of dining options. Stop in at one of celebrity chef Mike Isabella's three restaurants (Pepita Cantina, Yona, and Kapnos Taverna), or walk a few blocks west towards Glebe to find the third and new location of homegrown favorite Cheesetique.
Photo Credit: Sam Kittner/Kittner.com