This post is part of a series highlighting the ART bus routes throughout Arlington County and how both residents and visitors alike can take advantage of the ART bus system.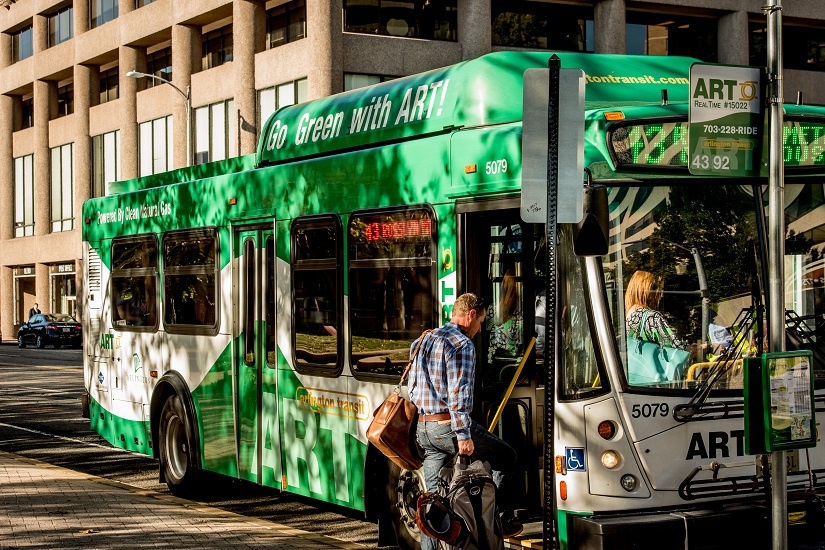 ART 43
ART 43 is a relatively new route that was introduced in the early part of 2014. It is a convenient way to travel between Crystal City and Courthouse during morning and evening rush hours. The bus stops only at Crystal City VRE Station, Crystal City Metro Station, Rosslyn Metro Station, and Courthouse Metro Station. The limited stop, rush hour service allows the bus to travel between Courthouse Metro Station and Crystal City VRE Station in about 20 minutes and between Rosslyn Metro Station and Crystal City Metro Station in about 10 minutes (and vice versa).
Ever since the introduction of the Silver Line to the Metro system, many commuters have taken advantage of new commuting options. However, a group of specific commuters were affected when the Silver Line was introduced – namely those who traveled between Courthouse, Rosslyn and Crystal City on a daily basis. Blue Line trains went from running almost every 6 minutes to now at most traveling every 12 minutes during peak periods. This made traveling between Courthouse and Crystal City timely.
The inclusion of ART 43 earlier this year created a route that reduced the commute between Courthouse/Rosslyn and Crystal City by a significant amount. No more need to wait for Blue Line trains; plus, riding the ART 43 gives you the added bonus of traveling above ground the whole way.
Before starting at Arlington Transportation Partners (ATP), I was one of many commuters riding an Orange or Silver Line train from Courthouse to Rosslyn and then watching as countless trains passed until my Blue Line train finally arrived. In March this year, the ART 43 began service and before I knew it I was using a new route that reduced my commute time by almost 10 minutes, allowing me to be multi-modal as I loaded my bike on the front of the ART bus and biked from Crystal City to Braddock Road Metro Station.
Whether using the ART 43 to simply travel to or from Crystal City or to ride the new Metroway to travel into Alexandria, there are many options the ART 43 can bring to your commute.
Urban Villages Served: Crystal City, Rosslyn, and Courthouse
Route Timings
ART 43 bus timings can be a little tricky, so we recommend viewing the schedule below. Ultimately, there are 2 buses that run 10 minutes apart, followed by a 30 minute break. The 10 minute interval returns after the 30 minute gap and follows the same pattern again. ART 43 only runs during rush hour periods Monday through Friday. Bus service is not available on the weekends.
ART RealTime Arrivals are available through this ART specific Rider Tool. You can also click to view a print-friendly ART 43 route and schedule PDF.
Metro Station Stops
The bus stops at the Courthouse, Rosslyn, and Crystal City Metro Stations. Courthouse Metro Stations provides Silver and Orange Line service, Rosslyn Metro provides Blue, Orange and Silver Line service, and Crystal City Metro offers Blue and Yellow Line service. Few bus routes offer this much access to so many different lines in such a short amount of time!
VRE Station Stops
ART 43 also stops at the Crystal City VRE Station for commuters looking to catch a train home. The Virginia Railway Express (VRE) provides commuter rail service from the Northern Virginia suburbs to Alexandria, Crystal City, and downtown Washington, DC.
Highlighted ART 43 Stop
The Crystal City VRE Station stop is the only stop on the line that does not coincide with the Metro and also happens to be right at the Crystal City Waterpark. The Waterpark is a great place to relax and eat lunch outdoors, I recommend utilizing it during National Walk at Lunch Day. The Crystal City BID (Gold Level Champion) also hosts events such as Monday Morning Yoga and Wine in the Water Park during certain times of the year. Also, it happens to be the location of the Bike to Work Day pit stop in Crystal City.
ART 43 isn't just for residents or commuters. Visitors can also use the bus during the week to quickly travel between Courthouse, Rosslyn, and Crystal City (don't forget the bus only runs during rush hour Monday through Friday). This can be a way to bypass the Blue Line and quickly travel between major Urban Villages.
If you are visitor to Arlington County, be sure to visit our friends over at Stay Arlington for even more information on activities, hotels, culture, and more.
Photo Credit: Sam Kittner/Kittner.com for Arlington Transportation Partners