This post is part of a series highlighting the ART bus lines throughout Arlington County and how both residents and visitors alike can take advantage of the ART bus system. Check out the other ART routes in this series here.
ART 55
Next up in our ART Bus Series is the ART 53 route, which travels between Ballston and East Falls Church Metro via Old Glebe Road. For residents in North Arlington or the Westover area, the ART 53 is a great way to get nearby Metro stations without a car!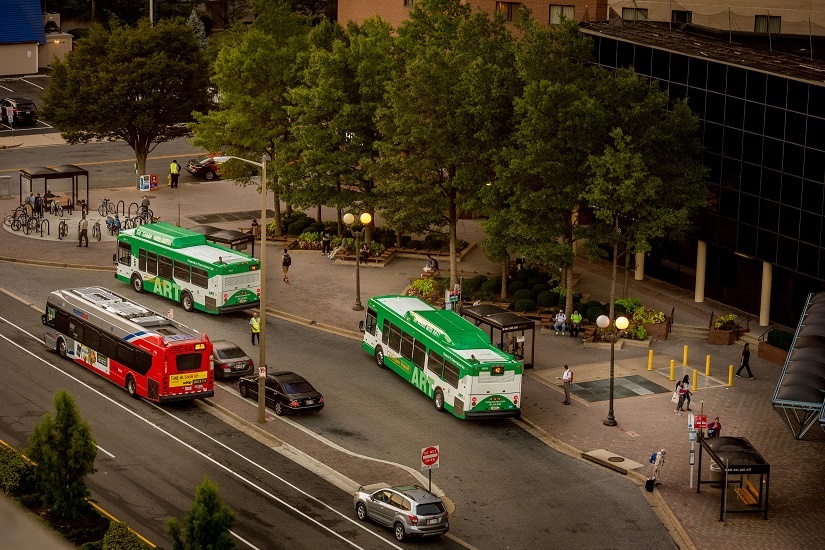 This route also serves several neighborhoods, parks and schools such as Williamsburg Middle School, Rock Spring, Chain Bridge Forest, Gulf Branch Nature Center, Donaldson Run, Cherrydale, and more. Look out for the green and white ART bus stop signs at more than 100 stops along the route.
Route Highlights
One of my favorite stops on this route is the Gulf Branch Nature Center and Park on Military Road that provides environmental education and fun programs for all ages. The pollinator garden, live animal exhibit room and pond are just a few features that the Nature Center and park offers.
Urban Villages Served
Ballston, Lee Highway, and Westover
The ART RealTime Arrivals tool is available on desktop and mobile devices, and lets you know when the next bus will arrive at your requested stop. You can also click to view a print-friendly ART 53 route and schedule PDF.
Metro Station Stops
The ART 53 stops at two Metro stations, Ballston and East Falls Church. Both stations provide Orange and Silver Line service.
Highlighted Stops: Pinky's Fun Picks
Westover Beer Garden (short walk from the bus stop): good selection of beer and they are a Car-Free Diet Partner!
Donaldson Run Park: trails and a quiet natural setting just minutes from the hustle and bustle of the Rosslyn-Ballston corridor!
If you are visitor to Arlington County, be sure to visit our friends over at StayArlington for even more information on activities, hotels, culture and more.
Photo Credit: Sam Kittner/Kittner.com for Arlington Transportation Partners