This post is part of a series highlighting the ART bus routes throughout Arlington County and how both residents and visitors alike can take advantage of the ART bus system.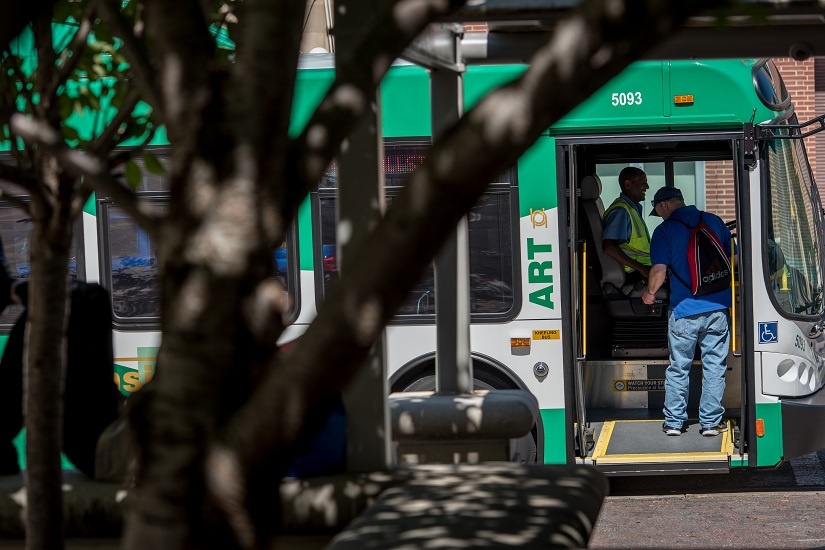 ART 62
The ART 62 provides service between Ballston and Court House Metro Stations via the neighborhood friendly roads of Cherrydale, Lorcom Lane, and Lyon Village. Taking this particular route to get to your destination is a nice alternative to driving while viewing some of Arlington's neighborhoods.
Being a frequent rider of this bus, I enjoy looking at the different houses, their seasonal decorations, or store displays from my window. This bus is also a great commuting option for teenagers attending Washington-Lee High School and HB Woodlawn Secondary School. Students can purchase an iRide card (similar to the SmarTrip card, but specifically for students) and ride any ART bus for only $1.00. Now, that's a good option! Plus the iRide card works on Metrorail, Metrobus, and other regional bus systems too.
My favorite part of the ART 62 route is that it stops at the Central Library on Quincy Street. Library members can enjoy access to a variety of books and movies including books in Chinese, Spanish, and other foreign languages. A book always makes a good companion when riding the bus or Metro.
Urban Villages Served – Ballston, Lee Highway, Virginia Square, Clarendon, and Courthouse
Route Timings
This bus operates every 30 minutes during weekday rush hours. Part of the route is designated a 'flag stop zone' which means instead of waiting at a set bus stop, riders can flag down the bus anywhere along that part of the route. That makes riding the ART 62 easy!
ART RealTime Arrivals are available through this ART specific Rider Tool. You can also click to view a print-friendly ART 62 route and schedule PDF.
Metro Station Stops
The ART 62 stops at 2 Metro stations, Courthouse, and Ballston. Both stations provide Orange and Silver Line service.
Highlighted ART 62 Stops
The ART 62 route is the home to several ATP Champions such as, NRECA (Platinum Level Champion), The Nature Conservancy (Gold Level Champion) and our pit stop for National Walk@Lunch Day, aXseum Solutions (Silver Level Champion), SRA International (Platinum Level Champion), CNA (Gold Level Champion) who recently moved to Arlington, and Cannon Design (Silver Level Champion) who is a recent Capital Bikeshare Corporate Membership Partner. We have enjoyed working with all our 2014 Champions and look forward to seeing them at The Champions Ceremony on Wednesday, January 28th, 2015.
Now time for my personal fun picks in each of the urban villages that are serviced by ART 62. Check them out at your convenience and drop me a line with your comments.
Pinky's Fun Picks
Ballston - World of Beer, Mussel Bar, Ballston Movie Theater, Sweet Green, and Buzz Bakery
Lee Highway – Italian Store (the best cannolis, yum!)
Virginia Square –El Pollo Rico (the best Peruvian rotisserie chicken)
Clarendon - Trader Joes, Barnes and Noble, Container Store, Whole Foods, Circa, and Pete's Pizza
Courthouse – Fire Works Pizza, AMC Movie Theater, Arlington Rooftop Bar, and Grill and Bayou Bakery
If you are visitor to Arlington County, be sure to visit our friends over at Stay Arlington for even more information on activities, hotels, culture and more.
Photo Credit: Sam Kittner/Kittner.com for Arlington Transportation Partners