This post is part of a series highlighting the ART bus lines throughout Arlington County and how both residents and visitors alike can take advantage of the ART bus system. Check out the other ART routes in this series here.
ART 74
The ART 74 connects Columbia Pike, the Walter Reed Community Center and Pentagon City on a limited run Monday-Friday. In the mornings, the bus only heads east, then in the afternoon, the bus only heads west, giving Columbia Pike riders access to a Metro Station for their daily commuting option.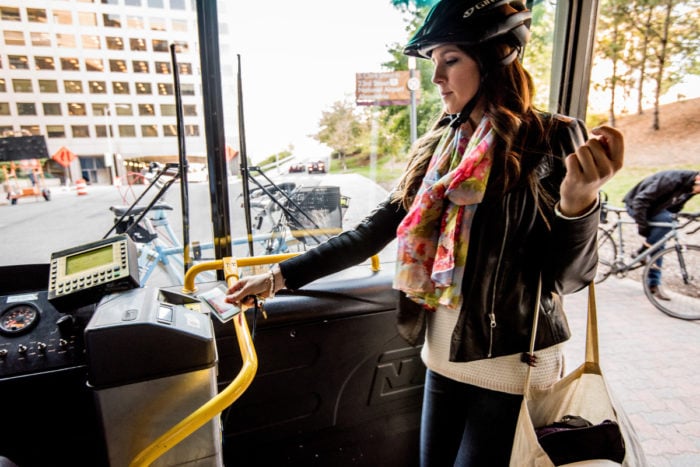 Route Highlights
The Walter Reed Community Center, Hoffman-Boston Elementary School in the Arlington View neighborhood and The Fashion Centre at Pentagon City connect Arlingtonians to several important community destinations during the week.
Urban Villages Served
Pentagon City
Route Timings
This short route runs every 30 minutes Monday-Friday only. East-bound morning service starts at 5:53 a.m. and the last bus reaches Pentagon City at 9:11 a.m., while west-bound afternoon service starts at 3:35 p.m. Keep in mind that the bus only runs east in the morning and west in the evenings. If you live in Arlington Village and Arlington View, this is the daily commute option for you! Just don't linger too long while shopping and dining in Pentagon City—the last bus leaves at 7:35 p.m.
Get the details on the ART 74 downloadable schedule and always keep tabs on arrivals with the ART real-time tracker.
Metro Station Stops
Connect to the Blue and Yellow Metro Lines at Pentagon City, or hop on other buses. Capital Bikeshare can also connect you to Crystal City and Long Bridge Park.
Highlighted Stop
We'd be lying if we said the best stop is anywhere but the Pentagon City stop. With The Fashion Centre at Pentagon City right at the bus stop and Metro Station, plenty of dining and shopping opportunities are at your fingertips; plus, getting there on the ART bus saves you money you can now spend in the mall. The Fashion Centre has been undergoing some extensive remodeling, which means better stores and better restaurants (the decadent desserts at Sugar Factory have our attention).
In the winter, Pentagon Row adjacent to The Fashion Centre, hosts a seasonal ice rink, and Nordstrom Rack across the street are favorite destinations as well. Pentagon City is also the perfect place to start a visit to the Pentagon Memorial and the Air Force Memorial. Additionally, you can work off your desserts during a quick Capital Bikeshare ride to Crystal City on some of Arlington's first protected bike lanes.
Photo Credit: Sam Kittner/Kittner.com for Arlington Transportation Partners