This post is part of a series highlighting the ART bus lines throughout Arlington County and how both residents and visitors alike can take advantage of the ART bus system. Check out the other ART routes in this series here.
ART 77
The ART 77 provides a sustainable way to travel between Shirlington and Courthouse with stops along the way including Walter Reed Drive and Lyon Park. The bus can be utilized by residents of Nauck, Arlington Village, and Lyon Park as a convenient option to reach the Courthouse Metro or Shirlington Village.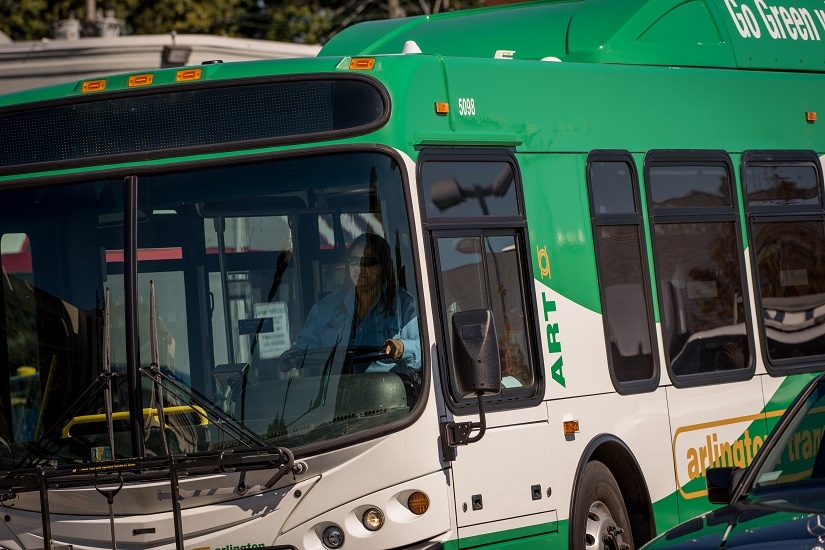 Route Highlights
The ART 77 runs between the Courthouse Metro Station and the Shirlington Bus Station. The bus serves as one of the only ways to reach Arlington Village and Shirlington from North Arlington directly. The ART 77 leaves the Courthouse Metro Station and Shirlington Bus Station every 30 minutes on the hour and half hour (ie. 10:00 a.m., 10:30 a.m., 11:00 a.m.). The timings make it easy to remember when the next ART 77 will depart for the other end of the line.
Urban Villages Served
Shirlington, Columbia Pike, Clarendon, Courthouse
Route Timings
ART RealTime Arrivals are available through this ART specific Rider Tool. You can also click to view a print-friendly ART 77 route and schedule PDF.
Metro Station Stops
ART 77 stops at the Courthouse Metro Station which serves the Orange and Silver Lines.
Highlighted Stop
After catching the ART 77 from your preferred location along its route, head down to the Courthouse Metro Station stop for a plethora of food, entertainment, and transportation amenities. Courthouse contains many restaurants where you can sip on your favorite drink and grab a bite to eat. After filling your stomach you can head over to the AMC Courthouse Plaza 8 to see a movie in plush seating. The Courthouse Metro Station stop also gives you access to travel to even more locations including Crystal City via ART 43 or downtown DC via Metrobus 38B.
Photo Credit: Sam Kittner/Kittner.com for Arlington Transportation Partners