This post is part of a series highlighting the ART bus lines throughout Arlington County and how both residents and visitors alike can take advantage of the ART bus system. Check out the other ART routes in this series here.
ART 84
The ART 84 connects Douglas Park and Nauck with Pentagon City, where residents and riders can connect to the Yellow and Blue Metro Lines to get to work, shop, or dine midweek. This route will only get you to the Metro in the morning and from the Metro in the evening Monday- Friday, so don't make weekend plans using this line.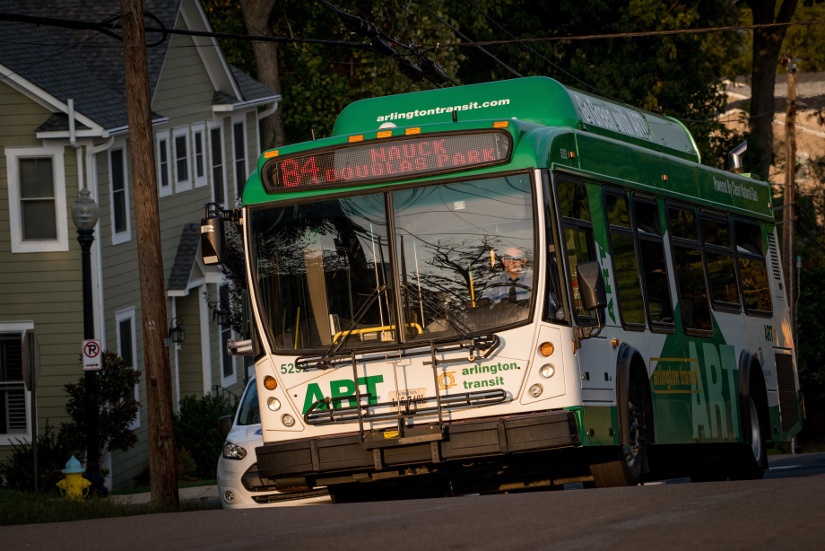 Route Highlights
If you are awake on your morning bus ride, check out traditional Arlington houses alongside large, modern apartment buildings. Then sit back and relax while someone else drives in the traffic on Interstate 395 – use the time instead to read the news, practice a hobby, or just keep sleeping.
Urban Villages Served
Pentagon City
Route Timings
The ART 84 runs every 30 minutes Monday-Friday. Between 5:51 a.m. and 9:31 a.m., the bus runs east towards Pentagon City, then west from Pentagon City 3:30-7:52 p.m. The route connects the residential communities of Dolley Madison, Avalon Bay, and Alexan apartments to the closest Metro Station at Pentagon City.
The ART 84 operates non-stop in this portion of the route between Pentagon City and the intersection of S Glebe Road and 24th Road South. Pentagon City Metro Station is the only stop on that portion of the route, both a.m. and p.m. This direct service means the entire route is only 20 minutes long!
Get the details on the ART 84 downloadable schedule and always keep tabs on arrivals with the ART real-time tracker.
Metro Station Stops
Pentagon City only
Highlighted Stop
The stop at S Kenmore St at 24th S South is full of Arlington history and community. Not only is it the stop for Drew Model School, one of Arlington Public School's elementary schools, it includes the Charles Drew Community Center with a Capital Bikeshare station located front and center.
The Nauck neighborhood was established before the Civil War but flourished afterwards as an African American community as freed slaves moved out of Washington, DC, into Arlington's Freedman's Village, established in 1863. The Green Valley Pharmacy, on the corner of Shirlington Road and 24th Road South, is a strong and resilient continuation of Nauck's heritage, with owner Doc Muse serving the community for over 60 years. Be sure to stop in on your way home from work someday and say hello!
Photo Credit: Sam Kittner/Kittner.com