On a daily basis, Arlington Transportation Partners (ATP) praises and celebrates the businesses, residential communities, commercial properties and schools that work very hard to make Arlington County not just good, but great! The team at ATP loves what we do and we are very grateful for our Champions and clients, making our jobs enjoyable. However, we'd be remiss if we didn't take the time to celebrate one of our own.
Last month, Keara Mehlert celebrated three years with ATP. I checked in with Keara to not only see where she's at now, but also take a look at how far she has come during her tenure at Arlington Transportation Partners.
Keara Mehlert, LEED Green Associate
Business Development Manager, Property & Development Services
Q: When did you first start working for ATP and what was your role?
A: I first started as an intern during the Summer of 2011 during grad school, then started full time as a Business Development Specialist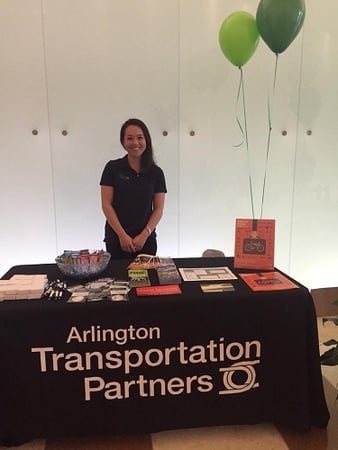 in May 2012.
Q: What is your current role and primary responsibilities?
A: Business Development Manager, Property & Development Services. I work with real estate developers and property owners who are going through the development process and provide assistance in meeting the site plan transportation requirements.
Additionally, I work with non-site plan commercial office properties in providing transportation amenities and programs for their tenants such as bike storage, showers, Capital Bikeshare memberships, employee events and other customized initiatives.
Q: What has been your biggest accomplishment to date?
A: I'm very excited to have over 25 commercial properties involved in ATP's Champions so far in 2015! It's been great to see the Property & Development Services program grow over the past year as more office buildings and management companies work to improve employee commutes to/from their properties.
Q: How do you see the Property & Development Services program evolving over the next three years?
A: Arlington's development pipeline certainly isn't slowing down anytime soon. With over 7 million square feet of approved office space and more than 7,000 residential units planned for development in the coming years, managing demand on the County's roads and transportation system is going to be critical. Working with new residential, commercial and mixed-use properties to implement transportation programs for their employees and residents is certainly going to be a primary focus of Property & Development Services and Arlington Transportation Partners. Our services and initiatives will continue to be a significant part of making Arlington a great place to live, work and visit.
Q: Why do you love working for ATP?
A: My coworkers! This is a really fun group of people who are committed to the work we do – it really makes work much more enjoyable.
Q: What do you love most about Arlington County?
A: I love how Arlington County continues to grow. I used to live on Columbia Pike and I'm always so impressed to see how much it's changed from when I first moved to the area.