In Arlington, how students get to school has always been an important topic, but now the County is also focusing on how faculty/staff get to work. With almost 5,000 employees, Arlington Public Schools (APS) is one of the largest employers in the County and is generating a lot of commute trips. APS already encourages its students to think about transportation options like biking, walking and carpooling through The Safe Routes to School program*; now, employees will be asked to do the same through its new partnership with Arlington Transportation Partners (ATP).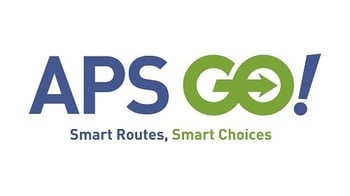 ATP, Arlington County Commuter Services' Business-to-Business experts, is bringing its Transportation Demand Management (TDM) skills to APS in support of the APS GO! initiative to promote healthier, safer and sustainable transportation options. APS GO!, launched in 2013 and the first program of its kind in the country, is a community-wide, school-driven process which positions Arlington as an industry leader in transportation planning. As of October 2014, ATP has dedicated a business development manager working with APS faculty/staff.
Elizabeth Denton is already working with individual schools, learning about each one and its unique transportation scenario. By reviewing the APS GO! research and meeting with principals, Elizabeth can identify specific needs and interests, and help create individual school TDM plans. Worried about limited parking? Interested in becoming a greener school? Seeking ways to encourage healthier staff? There are solutions for every school.
Because ATP recognizes the strength of the whole school, Elizabeth is working with the APS Safe Routes to School coordinator, Tom Norton, to make sure that events are parallel each other. On Bike to School Day, for example, both students and staff will be encouraged to bike to school, and then celebrated when they do. Why leave out a critical part of a school, after all? A successful school includes everyone.
In addition, APS will soon have its own Champions program! ATP's successful 2014 Champions program recognized 122 companies, residential communities and commercial properties that are committed to reducing traffic congestion and improving the health of their communities. The 2014 Champions come in all sizes and industries and offer a range of transportation benefits and amenities that are best suited to each. APS schools will soon have the opportunity to pick from a range of activities to help them earn Bronze, Silver, Gold or Platinum Level status.
Elizabeth, ATP and ACCS look forward to a long partnership with APS and a future full of green, healthy schools!
>> For more information about the APS partnership and to set up a meeting with Elizabeth, please contact her directly at 703.247.6997 or elizabeth.denton@transpartners.com.
>> For information about ATP and Champions, call 703.247.2417 or email solutions@transpartners.com.