A recent article by The Associated Press, as seen in The Washington Post, discusses the growing demand for bicycle amenities in apartment complexes throughout the country, particularly in urban areas. As the number of bicycle commuters and everyday cyclists continues to grow, more multifamily buildings are seeing a need to provide bike-friendly features such as secured bike parking, bike repair rooms, and easy access to nearby bike lanes and paths. In the Arlington and DC region, this issue of providing bicycle amenities has been previously discussed, as more residential properties are catering to those with bicycles to attract new tenants. The recent installation of new bike lanes and facilities, as well as the addition of Capital Bikeshare stations throughout the area has made biking a safer and easier transportation option for local residents.
In Arlington, bot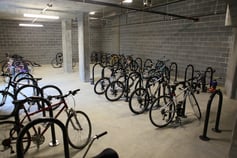 h new and existing buildings are providing bicycle amenities to residents, due to resident demand as well as site plan requirements from the county. These features not only make residential properties more marketable to potential tenants, but can reduce the amount of vehicle parking developers need to provide, as well as reduce resident turnover.
Some of the properties that have made efforts to provide such amenities include Siena Park and Views at Clarendon, both of which have secured and covered bike racks and storage in their garages, which gives residents the peace of mind that their bikes will be safe if they choose not to bring them up to their own apartment. Siena Park also provides free loaner bicycles that residents can use for a variety of purposes.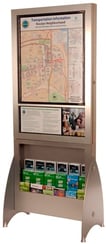 55Hundred on Columbia Pike not only provides ample bike parking for residents, but also held a Bike Safety Seminar for the building tenants and area residents as part of their commitment to encourage sustainable modes of transportation. In recognition of these efforts, in 2012 the property was awarded Honorable Mention for the Bicycle Friendly Business program by the League of American Bicyclists. Crescent Apartments near the Arlington-Falls Church border provides bike storage in their garage for up to 200 bicycles and also offers transportation information in new resident packets. The bicycle shop on the retail floor of the building also makes it convenient for residents to get tune-ups or purchase gear and supplies.
In addition to the more physical amenities such as bike racks, most properties in Arlington provide free brochures, maps, and customized transportation information to residents in their lobbies or rental offices. These materials, which can be easily requested from ATP, can give residents a better idea of what their transportation options are, and provide details such as nearby bike paths, bike lanes, and Capital Bikeshare stations.
ATP can help your property become more bike-friendly! By offering bicycle amenities, your building can attract and retain residents, while maintaining a more positive presence in the community. Get started today!