We all know that Arlington County does a lot to support bicycling as a commuting options, and as a recreational activity. There are numerous trails and bike lanes, education and outreach programs (thanks, BikeArlington!), ample bike racks, bike shops, and even bikes to share, in Capital Bikeshare. For all these reasons and more, Arlington County has been designated as a Bicycle Friendly Community by the League of American Bicyclists.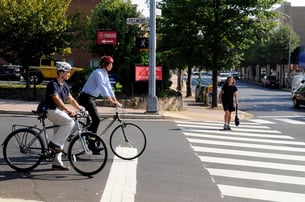 That's all well and good. Its great, even. But what does this mean for you? As an employer or employee in Arlington, it means that you're in a great position to promote biking as a commuting mode, just by virtue of where your business is located. If you take that a step further, by offering secure bike parking, showers, or other bike related benefits, you can earn special designation as a Bicycle Friendly Business. A Bicycle Friendly Business is an organization that actively promotes bicycling for transportation, recreation, exercise and sport, and encourages social responsibility by weaving bicycling into their organizational culture?
Think your office has what it takes to earn the recognition? We at Arlington Transportation Partners have several tools that can help. The first thing you should do is walk through this simple checklist to see where you stand on the 4 E's: Engineering, Encouragement, Education and Evaluation.
Engineering: Does your business offer secure bike parking? What about showers and locker access?
Encouragement: Are there incentives in place to encourage bike commuting? Does your organization engage with local or national bike advocates (like Arlington Transportation Partners or BikeArlington)?
Education: Does your business offer bicycle education classes, or make education materials available to employees?
Evaluation: Is there an employee in your office dedicated to coordinating bike efforts in your office?
If you answered yes, or even 'kind of' to most of those, your office could be a candidate for this recognition, joining more than 15 businesses in Arlington who have also been awarded.

By now you're probably saying to yourself 'sure, some recognition for our efforts would be great, but who has the time?' Luckily, ATP is here to make the process easy for you. We will work hand-in-hand with you to fill out the application, submit photos and coordinate the effort on your behalf. Our goal is to get you the most recognition without taking much of your time.
So, if you think you have the 'bike stuff' to get recognized, give us a call! Applications for the next wave of awards are due in late June!