Since completion in 2007, the Waterview development has had a significant presence in the Rosslyn urban village, bringing workers, residents and visitors to the area. Arlington Transportation Partners (ATP) has worked with the office property portion of the site for several years, and has designated Waterview as a Gold Level Champion for the past two years.
Located a block and a half from the Rosslyn Metro Station and across the street from a Capital Bikeshare dock, Waterview's office tower features 24 stories of over 640,000 square feet of Class A office space. Owned and managed by Paramount Group, the property is occupied by three major tenants with over 7,000 employees. In addition to Champions, the building has earned numerous designations and awards since opening including LEED Gold certification, TOBY Outstanding Building of the Year and Bronze Level Bicycle Friendly Business.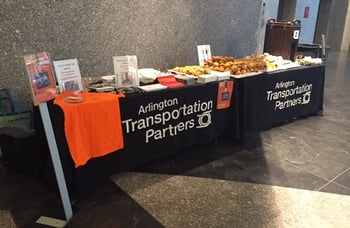 With many employees who regularly commute to the building by bike, Waterview's management saw value in hosting its own Bike To Work Day event with ATP in the lobby on May 15. Tenants were treated to coffee, breakfast snacks, giveaways and information about bike commuting and Capital Bikeshare. In addition, those who stopped by the table were very excited about the prizes that Waterview raffled off – five Capital Bikeshare annual memberships as well as five bike repair kits which included a seat bag, CO2 canister, multi-purpose tool and tire levels. Overall, it was a hugely successful event with over 200 people who stopped by, many of whom rode their bike to work and had also stopped by one of the 79 "official" Bike to Work Day pit stops in the region.
Waterview is able to attract and encourage bike commuting through more than just its convenient and accessible location by the Mount Vernon and Custis Trails. The property also provides tenants with various bike amenities including a secure bike room with a tire pump and connected showers and lockers. Building staff does periodic walk-throughs of the room throughout the day as an extra layer of security and only registered users are able to access the room. Additional Class II bike parking is available in the front of the building by the entrance, which is also almost always full on good weather days. Bike maps are made available in both the bike room and building lobby.
This year, Waterview aims to renew their Bicycle Friendly Business designation as well as the building's LEED certification. As part of their recertification and to better meet the transportation needs of tenants, the property recently conducted a survey to determine how building users commute to the building. Management hopes to use this information as well as employee feedback to continue to engage tenants and determine more ways to make it easier to travel to the building and reduce the traffic impact in the Rosslyn area.
If your building or property is looking to engage tenants and offer additional benefits, contact me at kmehlert@transpartners.com. Customized materials and lobby events are a great way to show your tenants you're invested in them as well as the County.