From May 23 through September 7, the Vienna, Dunn Loring, East Falls Church, West Falls Church, and Silver line service will be closed as part of WMATA's Platform Improvement Project. While shuttle buses will be available to travel to points west of Ballston-MU station, biking is a stress-free option for your trips that will reduce the load of passengers on the shuttles and put a smile on your face. Here's how to pull it off: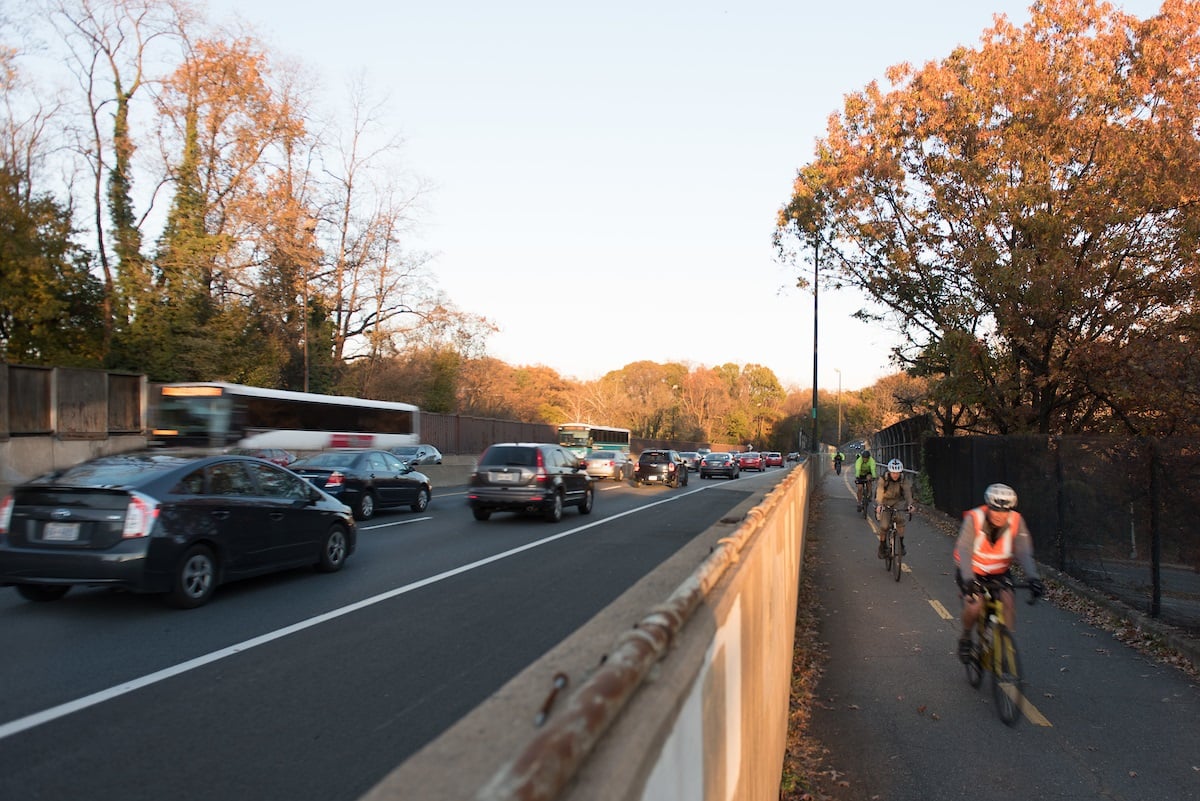 Try the Trails
The Custis and Washington & Old Dominion (W&OD) Trails provide many miles of car-free travel and can get you directly connected to the Ballston-MU metro station, other points in Arlington, and connector trails into DC.
The W&OD Trail is 45 miles long and stretches from Purcellville to Arlington. If your commute is on the Silver Line, consider this relatively flat and straight commute option. From points west, you can take the W&OD eastward past the East Falls Church Metro station and then slightly southeast to end up in Shirlington.
The Custis Trail is adjacent to I-66, not far from the OR/SV Metro lines in north Arlington. The trail starts at the Key Bridge and terminates in Bon Air Park between the East Falls Church and Ballston-MU stations. For people wanting to connect from points west to Ballston-MU to continue their commute by Metrorail, or who want to follow the OR/SV line through Arlington to complete their whole commute by bike, the Custis Trail is a great option.
Try Biking to Metro Shuttles
WMATA will provide free shuttles to replace trains from selected stations. Try biking to the station, locking your bike, and taking the shuttle bus to continue your trip. The shuttles will run seven days a week and operate during the same hours as Metrorail, 5:00 a.m. to 9:00 p.m. on weekdays and 8:00 a.m. to 9:00 p.m. on weekends.
Parking will be limited at East Falls Church (no parking available) and West Falls Church (reduced by 50%) stations to make room for construction equipment. Bike parking however is unaffected and can help alleviate parking for other commuters. Capital Bikeshare is another great option for these connecting trips and many of the stations have Capital Bikeshare docks.
Plan Your Route
The Platform Improvement Project is an opportunity to try out a new commute – there are many ways to make the shutdown smooth. Our partners at BikeArlington can help you plan your bike route with their customized bike planning tool.
Photo Credit: Sam Kittner/Kittner.com for Arlington Transportation Partners