There are a lot of great tips out there for commuting to work by biking in cold weather, from types of apparel to suggestions for layering and cool accessories you can buy. For those who have never ridden in the cold, however, all the advice can be a little overwhelming (and expensive!) if you're not sure where to start. In the three years I've been biking to work, I've kind of figured out what works and what doesn't work for me. For example, I've realized I'm still going to sweat at some point during my 3.5 mile commute no matter how cold it is, or that it's impossible for me to bike to work in work clothes, I'm way more comfortable in athletic apparel.
Riding in sub-freezing temperatures is no walk in the park, but I still find it faster, more convenient and way more enjoyable than other commute options. With temperatures getting very chilly recently, I thought I'd share the good, the bad and the ugly of what a typical cold weather morning commute looks like for me.
The Outfit*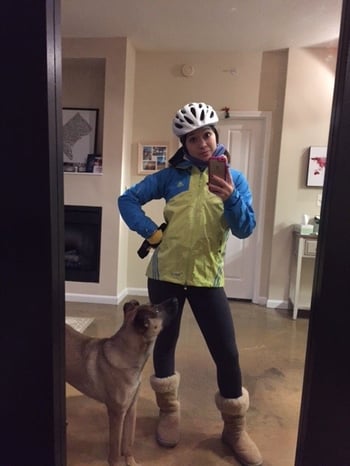 My typical commute outfit is really just a hodgepodge of stuff I have in my closet. I run outdoors a lot, so I have a lot of cold weather running gear which comes in handy for layering under jackets. I don't really have any bike-specific items, except for my gloves – if there was one piece of apparel that I'm going to invest in, it's gloves for sure.
What I'm wearing:
Earband: Conveniently, my mom originally bought this for my boyfriend, not realizing it was a women's size.
Fleece neckwarmer: I've actually had this since I was 12, when it was purchased for a ski trip. Haven't found the need to buy a new one, it gets the job done.
Zip up running top
Light fleece zip jacket: This is probably more than I need, but when I wear a running vest instead, my arms get too cold under my outer layer.
Jacket: Lightweight material, but rain and wind resistant. Plus, it's brightly colored and more visible when it's darker out.
Gloves and gloves liners: I had been meaning to buy a good pair of biking gloves, but my dad helped me out and gave me this set for Christmas. They keep my hands warm and my fingertips don't feel like they're going to fall off when I get to my destination. The gloves are also an awesome mustard yellow color and remind me of Umbro soccer goalie gloves, circa 1995. So chic.
Running leggings
Wool socks
Ugg boots: I don't care anyone says about Uggs, they are amazing. Nothing else keeps my feet as warm and cozy as they do – I would wear them all day, every day if I could. Seriously, if you own Uggs and can pedal in them, I highly recommend them for winter biking.
*Pup not included, but Rilo definitely approves of my #BikeFashion
Pre-Ride Necessities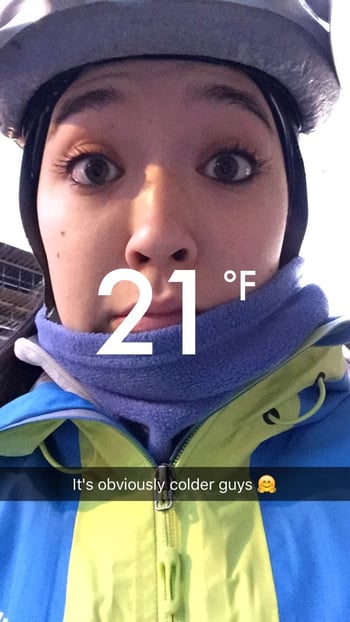 Before I start my cold weather cycling, I always put on lip balm, I use Aquaphor. If I forget to put stuff on my lips, they get super chapped and I end up looking like the Joker for a week.
I also Snapchat** a selfie before I start my ride. If you can't show your friends and family what a badass you are riding in such cold weather, then what's the point right?
**Snapchat needs to add windchill to their temperature filter.
The Commute – U Street to Rosslyn
7:15 – Leave my apartment.
7:16 – 2 blocks down the road and my eyes are already watering and my nose is running. Will need to wash the neckwarmer tonight. And probably my gloves too.
7:20 – I'm pretty warm and feeling good after about a mile into the ride. Legs are a little cold but not too bad!
7:23 – JK, my legs are actually freezing now and it feels like needles attacking my quads. This is the point in every ride where I make a mental note to purchase warmer leggings, like the fleece-lined kind or something. In 3+ years of biking, no such purchase has yet been made. However, my toes and feet super cozy and warm in my Uggs, obvi.
7:24 – I get cut off by a driver on Florida Ave. I yell out one of my standard phrases, "REALLY???!!", which absolutely no one can hear, and I continue on my ride.
7:25 – I get to P Street, from which it's pretty much uphill until Key Bridge. I realize that I haven't pumped up my tires in over 2 weeks, which is probably part of the reason this part is so difficult today. I make another mental note to pump them up either at work or later tonight. I'm definitely sweating under all my top layers now. But hey, getting a workout in while commuting to work? Win-win.
7:28 – My right thumb is suddenly very, very cold and numb, which is odd since the rest of my fingers are fine.
7:32 – I ride over Key Bridge, which is both the best and worst part of the ride. It's the best part because the sunrise looks incredible today and the river is starting to freeze which looks neat. It's the worst because it feels like I'm riding through a mini tornado the entire span of the bridge. Cold air is literally being blown directly up my nose – it feels horrible. However it forces me to ride very fast so I can get it over with quicker. Also on the plus side, my right thumb has regained feeling!
7:35 – I'm only two blocks from the office when my chain slips going up a hill in Rosslyn. This is A) embarrassing as there is a car directly behind me, and B) a reminder (so many mental notes!) that I need to get the bike tuned up soon before all the warm weather riders start dusting off their bikes and bringing them in for tune ups in the spring.
7:36 – I get to my office garage, hooray! Time to go upstairs, peel off all my layers and jump in the shower.
Brave the Cold and Bike to Work
You don't have to have the fanciest, newest gear or accessories to be warm and comfortable while biking in cold weather. I'm sure some people are fine just riding in their work clothes and winter jacket. It might take a few rides to figure out what works best, but once you have it down, cold rides really aren't that bad.
Some days are better than others when it comes to riding in the winter, windy days can be especially brutal. However, no other mode of transportation gets me to work consistently in 20 minutes, at no cost, with an added bonus of exercise.