Arlington Transportation Partners (ATP) recently had the opportunity, thanks to our partner Clean Air Partners, to talk with Dr. Janet Phoenix, MD, MPH and manager of Breathe DC's Asthma and Health Education Services. We wanted to know more about air quality, implications of bad air quality and how we can help improve Arlington's air.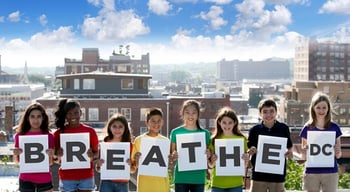 Here in the Washington, DC Metro area, we are very fortunate – our air quality is better than that of Los Angeles or New York City.
However, there are still air pockets where the air quality is poor, such as DC's Anacostia area in south-east DC. And there are plenty of transportation corridors that travel through those areas, exposing riders as well as residents to poorer air quality. The greatest health concern with air quality is people suffering from asthma, particularly children. Asthma usually develops in early childhood, but can also develop in adults, so it's in everyone's interest to keep our air clean and stay healthy.
Arlington's air quality is slightly different than Washington, DC's because the County has fewer pockets where the air particles linger. But this doesn't mean that we can rest on our laurels – everyone needs to work together to make sure our lungs continue to breathe clean, healthy air and keep us a healthy vibrant community.
Dr. Phoenix shared some tips with us to help make Arlington's air even better than it is. Whether you are a resident, an employee or a visitor, there are things we can all do to help each other breathe easier.
Employers
Employers in Arlington County offer transportation benefits and amenities to their employees because they know reducing the number of staff who drive into Arlington reduces pollution and makes the County a healthier location for employees. Improved quality of life is what makes Arlington such a high demand employer site. Offering a pre-tax transit benefit or a transportation subsidy will help encourage staff to take public transportation, while priority carpool and vanpool parking offers ways to share the ride.
Some companies even allow employees to telework on a regular basis, which reduces the number of trips altogether – and the pollution associated with them.
Residents
You already know that taking local trips by bicycle, on foot, on a bus or Metrorail is the best way to reduce pollution. But did you know that gasoline powered lawn mowers are the biggest pollutants? According to the EPA, an hour of gas-powered lawn mowing produces the same amount of pollution as a four-hour drive! That accounts for 5% of air pollution in the United States alone. Choose electric, or better yet, push power – that will give you a workout, help the environment and get your chores done.
Schools
Schools in Arlington can have a huge impact on air quality. Some of the best ways parents, staff and students can have a positive impact on air quality include:
Reducing the amount of vehicle traffic to and from schools
Discouraging idling cars when picking up or dropping off students
Encouraging school bus drivers to not idle buses while waiting for their runs
Gardens and green spaces around schools also help improve air quality; additionally, research shows students who study in green space or have better air quality have better educational opportunities. In the interest of Arlington's future, improving the health of students now will pay off down the road.
Visitors
Visitors come to Arlington and Washington, DC from all around the world. Making sure that they are aware of their transportation options should be second only to knowing the WiFi password in their hotel rooms. Hotels can provide transit information, as well as promote Capital Bikeshare, to guests and market them as additional hotel amenities, which are free courtesy of ATP.
What are you going to do today to help improve Arlington's air quality? Leave us a comment to let us know. Or if you need help working with your employees, residents, visitors or school staff/students – let us know. Our services are complimentary and will make a difference in your organization!