Last week, I attended a seminar hosted by Arlington Economic Development and George Mason University called: Beyond Smart Growth: New Thoughts on Sustainability. The program involved a variety of speakers and panels, with the purpose of exploring the roots of Arlington's success, and also sharing ideas for how we can sustain this success and continue to grow.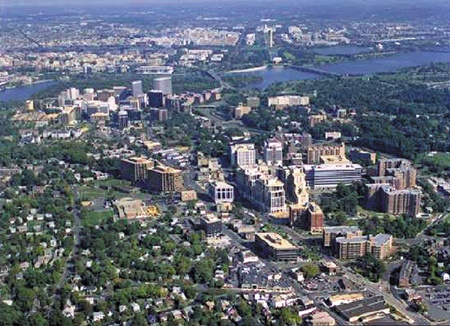 The theme of the seminar centered around Arlington's Model of Economic Stability, focusing on three primary ideas: Innovation, Competitiveness and Resiliency. We also learned some 'Grand Thoughts' shaping Arlington's way of doing things.
What was great to me about this event was that it didn't serve as simply a celebration of the good work Arlington has done in building a smart, vibrant and mobile community. These are Arlington stories most of us already know. What this event focused on was moving the ball forward. How can Arlington build on the foundation it has set, continue to grow, continue to compete and continue to thrive.
The speakers came from a wide variety of backgrounds, with a variety of individuals representing all sectors of the Arlington business community. Particularly entertaining was the "Innovation" panel, which included Donald Leo from Virginia Tech, Jon Perrelli from Fortify.vc and Eric Schaeffer from Signature Theater. Their discussion centered around the need for 'disruption', and ways in which we can engage the Arlington youth – a theme that would carry throughout the seminar.
Some of the ideas that resonated with me during the event centered upon the need for innovation – and incubating creativity in the region. Arlington is great, but the work isn't done. There is still room to grow and innovate, and we must continue to find new ways of attracting and, more importantly, retaining talent. A few highlights:
"Companies that succeed are those that disrupt the most" – Jon Perrelli
"Wear failure like a badge of honor" – Jon Perrelli
"Local government has a role in facilitating the integration of business and university communities" – Lyles Carr, the McCormick Group.
Despite placing too much emphasis on being 'hip', the seminar carried an extremely optimistic tone, and left me feeling energized and excited about the future of Arlington – especially as we look to the future of mobility in the area. Things like Capital Bikeshare, the Columbia Pike streetcar and other transit initiatives will have an important role in maintaining Arlington's position as a leader in smart growth.
Learn more about Arlington's vision for the future at Arlington Economic Development.
Brett Jones is a Business Development Manager for Employer Services and Site Plan Development with Arlington Transportation Partners.