Last week's polar vortex issues aside, WMATA has had a busy first couple of weeks this month, as they announced some exciting and interesting new developments that will have a direct impact on Metro customers down the road. In case you missed them, check out the details of these changes below!
New Metro cars arrive for testing
The pilot railcars of Metro's new 7000 series recently arrived in the DC area to begin the testing period over the next 8 mont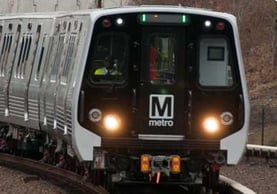 hs. The new cars, which Metro hopes will be able to be put into service by December of this year, have a completely different look from the current fleet, and will provide an improved rider experience for Metro customers. In addition to a new design (gone is the signature brown stripe on the exterior), the cars will feature digital signage, non-carpet flooring, ergonomic seats, as well as more standing room for passengers. While the new cars are expected to begin service at the end of the year, Metro also plans to replace the oldest fleet, the 1000 series, with the new cars by 2017.
Upgraded electronic payment systems coming soon
Last week, WMATA announced they had awarded Accenture with the contract to replace the current fare payment collection system on Metro, Metrobus, parking facilities, and MetroAccess. In addition to the current SmarTrip cards, the new system would eventually allow customers to use credit cards, ID cards, and smart phones to pay for their Metro fares. The upgraded system seeks to "enhance reliability and make travel more convenient for riders" as well as offer more modern fare gates and vending machines. Accenture will begin piloting the system later this year in 10 Metro stations, 50 Metrobuses, and two Metro parking facilities.
Feedback wanted on Metro's FY15 budget and fare changes
There are two opportunities for customers to provide feedback over the next month on Metro's FY2015 proposed budget and fare

changes including an online survey and several local public meetings. The 2015 budget would invest $3 billion to improve the current operations of the transit system, as well as capital improvement projects such as safety enhancements, fleet replacement and expansion, technology upgrades, and maintenance programs. The proposed fare changes would include a 4% increase for fares on Metrorail, as well as a 25-cent increase on regular bus fares and base parking fees. You can give your feedback and opinions on these proposals through the online survey here, or at one of the public meetings taking place at the end of January/beginning of February. For Arlington residents and employees, there will be a hearing at the Arlington Central Library in Ballston on February 5th starting at 6pm. These are great opportunities to make your voice heard as well as have an impact on your commute and transit experiences!
What do you think about these new developments from WMATA?