Riding a bike around Arlington County and the neighboring jurisdictions just got easier and more exciting. Capital Bikeshare's new ebike fleet is available to all members. With a pedal-assist motor to enhance your ride, these e-bikes will enable riders to commute more easily, power through hills and bridges, and visit neighborhoods in less time. Here's what you need to know.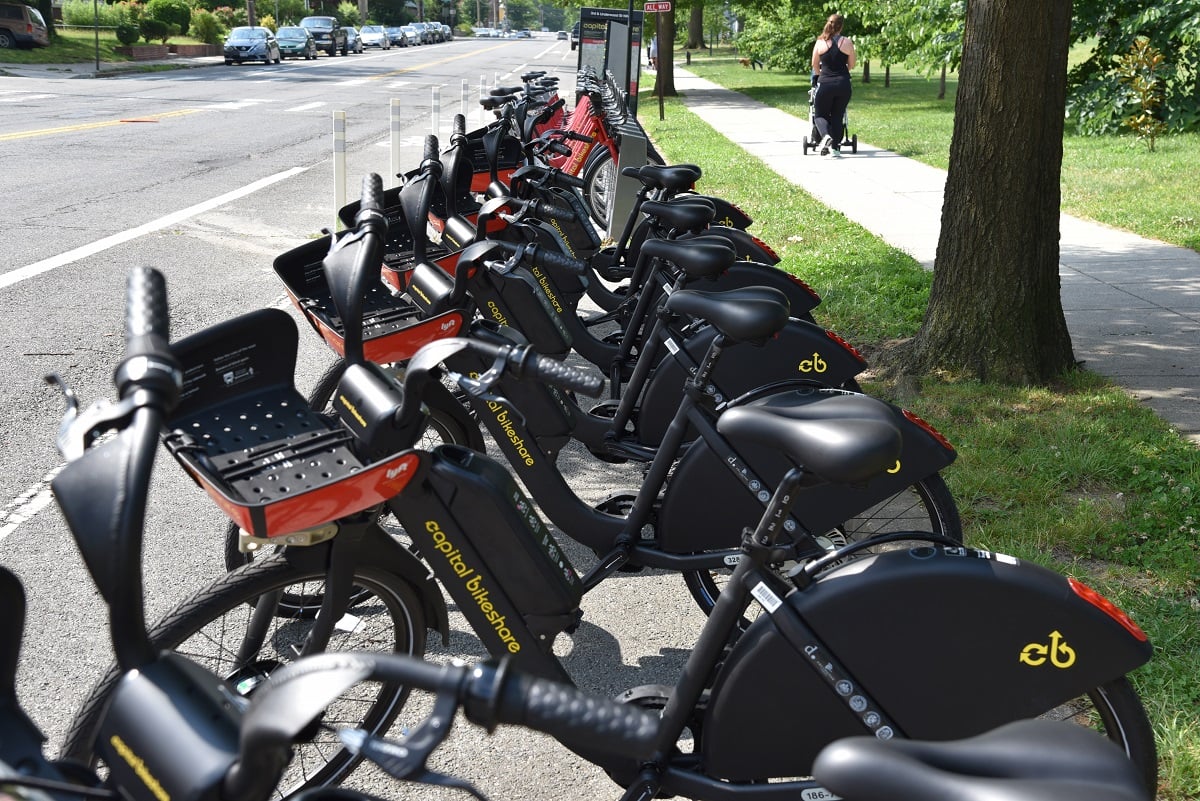 $1.00 to Unlock a Faster Ride
Capital Bikeshare ebikes can be accessed from any station and it only costs $1.00 to unlock the bike*. Riders can ride the bikes from one station to another but can also lock the bikes away from a station when their trip is over. Riders can also park the bike away from a station when their trip is over which will result in an additional $1.00 charge. The first 30 minutes of a trip remain free.
*Capital Bikeshare for All can unlock the ebike for free.
The service area
At the time of writing, Arlington County and DC are considered the service area where you can leave your bike locked away from a station. If you end a trip outside the service area, a $25.00 charge is incurred. Riders will be notified via the CaBi App and email. Avoid the charge by ending your ride within the service area. If you are locking the bike outside of a station make sure not to block pathways, sidewalks, or ramps.
How to Access an ebike
The black e-bikes are docked at the stations just like the classic red bikes. Capital Bikeshare members can unlock the bikes using the CaBi App. The app also allows user to find an ebike ahead of time—look for a lightning bolt next to the station icon on the app.
Tell Me More
If you never tried an e-bike before, you are in for a treat. The pedal-assist motor kicks in when you start to pedal and will add power and speed to your ride. To stop the motor, simply stop pedaling. The top speed you can reach is 18 mph before the motor turns off.
To engage the motor, press the power button on the middle of the frame. This will turn the pedal-assist function on. Afterwards, the faster you pedal the faster you will go.
Ride with a Smile
As we enter the height of summer weather, e-bikes can help you meet your friends at the park without having to worry about sweating and appearances. If you've been dreading biking because of a hill near your office or home, e-bikes will transform your commute and make it easy to enjoy an active ride to and from work.
Go for a Ride Today
Ready to experience an easier and faster bike ride? Download the Capital Bikeshare app and start exploring today. If you are an Arlington, Virginia resident who never had Capital Bikeshare membership before, we can help you out with a discount. Contact ATP and include your Arlington address to request your discount to start riding.