With the recent boom in bikeshare programs, it has been troubling to see usage trends highly skewed towards young male professionals. This begs the question, how do we ensure this newer transportation option is accessible to all residents?
Additionally, increasing gentrification and income inequality in urban areas has highlighted the need for more attention and programing to be developed around providing equitable and accessible transportation options to all residents.
The Capital Bikeshare Community Partners Program (CPP) was established with the aim of connecting needs-based providers in the DC metropolitan area with a low cost transportation option for their clients. Arlington Transportation Partners (ATP) and the Capital Bikeshare Community Partners Program, joined forces and leveraged ATP's relationship with Arlington Partnership for Affordable Housing (APAH) to create extensive bikeshare programming for low-income residents in Arlington County.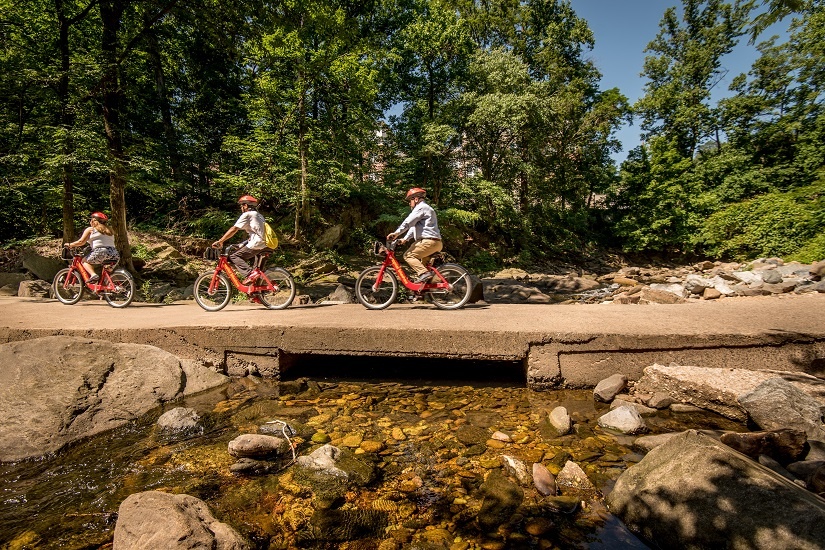 Partnering with APAH
APAH and property management company, S.L. Nausbaum, have been exceptional in their participation in the CPP initiative. As the main partners in CPP in Arlington, they have been engaged and involved throughout the entire process from launching the program, to troubleshooting issues along the way and promoting regular engagement events related to the program.
In 2017, we launched our Capital Bikeshare and Cupcakes event series at several APAH properties. These properties have a bikeshare station within 50 feet of their building, ensuring residents have easy access to this transportation option. In this way, residents who are enrolled in the program are literally steps away from using Capital Bikeshare for their daily commute, running errands, or a recreational ride on the trails.
Programing for Change
The bilingual Capital Bikeshare and Cupcakes events allow residents to sign up for the program and renew their memberships for the upcoming year. It also includes bike demonstrations and games. The most rewarding aspect of the events is seeing the smile on a person's face as they experience the joy of riding for the first time or trying it again after several years.
This was the case for Maria (67) and her husband (70) who got on bikes for the first time in over 30 years. Maria had been recovering from surgery and saw Capital Bikeshare as a fun way to regain her full mobility and strength. She had not been on a bike in several years and was nervous about trying it. After a few hesitant pedal strokes, she soon was off and unstoppable. She and her husband rode around the plaza countless times, grinning from ear to ear.
Watching the transformation that happened with Maria and her husband is a reminder of why the work we do, and the effort that APAH and S.L. Nausbaum put into making this program a success, is so important. This partnership and program gives residents freedom and joy.
A huge thank you goes out to APAH and S.L. Nausbaum for making this a program a reality, enriching your residents' lives, and bridging the bikeshare equity gap.
Bringing Bikeshare to Your Property
Contact ATP to see if your property qualifies to be part of the Capital Bikeshare Community Partners program.
Photo Credit: Sam Kittner/Kittner.com for Arlington Transportation Partners