Blog post originally written for 2015 Spring/Summer Solutions Magazine, by Henry Dunbar, Program Director of BikeArlington.
Arlington County is now accepting cash payment from Arlington residents for annual Capital Bikeshare memberships and user fees. This one-year pilot program is designed to expand usage of Capital Bikeshare in Arlington and make it easier to join for those who don't have a credit/debit card or prefer to pay cash.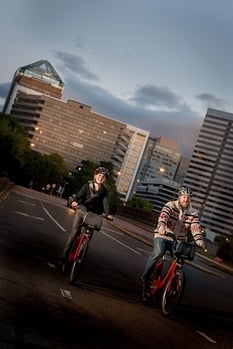 Arlington residents can sign up for a Capital Bikeshare membership at any of Arlington's four Commuter Store locations in Rosslyn, Crystal City, Ballston and Shirlington, or the Mobile Commuter Store. To sign up, residents must bring:
A current government-issued photo ID with their Arlington address shown, such as a driver's license, passport, Permanent Resident Card OR
Employment Authorization Card along with a copy of a utility bill dated within the past 60 days with their name and Arlington address.
For as little as $16 towards the standard price of an annual membership with monthly installments, a resident can open an account. This covers the $7 monthly membership fee plus usage fees for trips beyond the first 30 minutes. Another option is to pay $100 in cash for the annual membership cost of $85, with the remaining $15 set up as credit to be used for any usage fees.
Commuter Store staff will register customers and provide a member key fob, so riders can begin using Capital Bikeshare immediately. Arlington will debit an account with monthly membership and usage fees as they occur and notify the member when the account credit runs low. Visit capitalbikeshare.com/pricing for more information.