In May, Arlington County added its 100th and 101st Capital Bikeshare stations in Columbia Pike and Rosslyn Metro Plaza off North Moore Street, making it just the second jurisdiction to hit the three-digit milestone for stations.
We take a look at how Capital Bikeshare can benefit Arlington residents, and how Arlington Transportation Partners (ATP) can help your property take full advantage of Capital Bikeshare's versatility.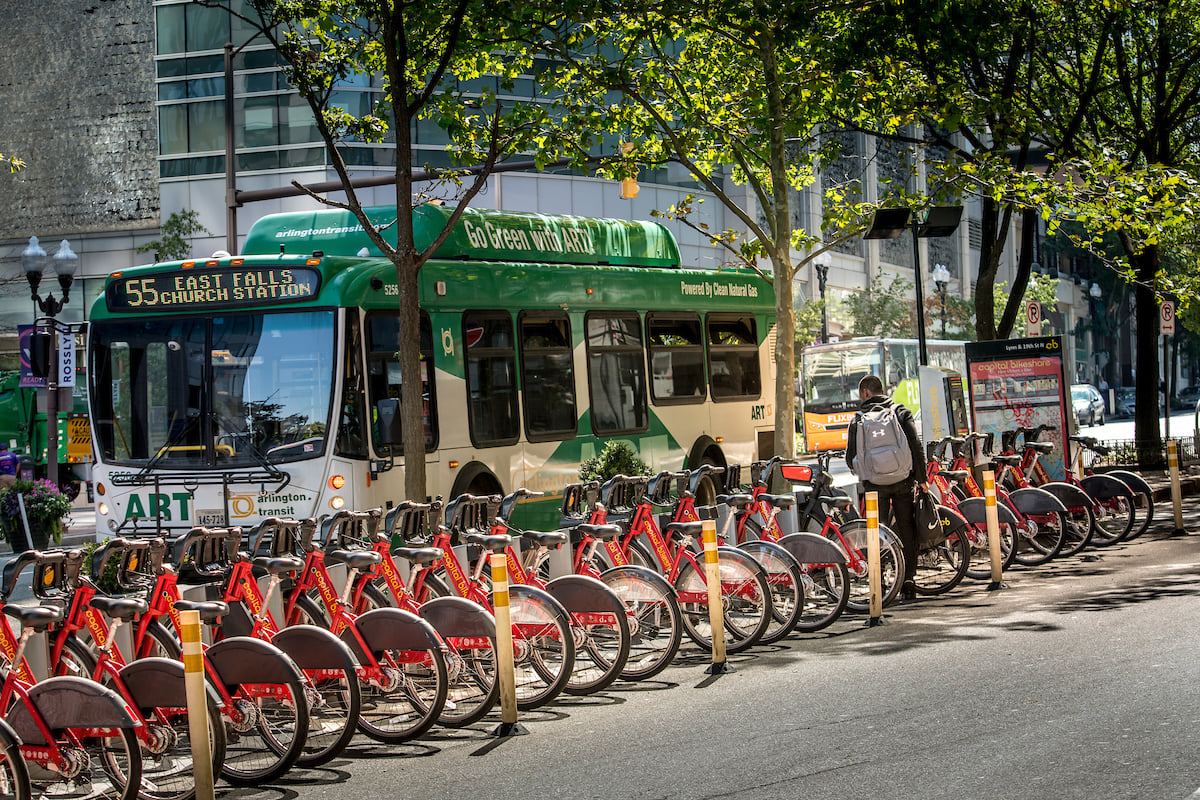 Benefits of Capital Bikeshare to Your Residents
Capital Bikeshare currently has 4,300 bikes, 628 stations, a fleet of sleek electric bikes, and an affordable price for all DMV residents.
In Arlington, Capital Bikeshare serves as a critical first-mile mode of transportation for countless residents who do not live close to a metro or bus stations.
Whether residents use it for recreational travel or for commuting, Capital Bikeshare provides residents across the DMV with an additional option to travel or commute while also staying active.
Affordable and convenient
Capital Bikeshare is also one of the most affordable options of transportation in the region. Memberships start at just $7/month—or a one time payment of $85 dollar—and allow for free unlimited trips under 30 minutes.
Day passes start at only $8 dollars for 24hours, and a single trip is only $2.
Capital Bikeshare for All
Capital Bikeshare is committed to equity among our region's underserved communities. Capital Bikeshare for All launched in 2020 and provides a $5 annual membership for low-income communities interested in biking as a mode of transportation.
Arlington residents receiving assistance through federal programs like SNAP, WIC, SSDI, TANF, Medicaid, and LIHEAP rental assistance, qualify for this discount. Also, in partnership with our Community Partners Program, all APAH and ACH residents in committed affordable units also qualify.
These memberships allow low-income residents to be connected to economic centers and transportation amenities in the regions, and break barriers to connect our communities to greater opportunities.
How to Receive Bikeshare Deals
Work with ATP to give your property and residents a unique advantage with system-wide deals. All Site Plan properties and Champion properties have access to our unique 50% discount for all first-time annual memberships.
All ATP clients have access to our day-pass codes and bulk membership orders. We can also help you order free brochures and bike maps of all Capital Bikeshare stations. Contact us your ATP representative to learn more.
Photo Credit: Sam Kittner/Kittner.com for Arlington Transportation Partners