Arlington Transportation Partners (ATP) has a lot of amazing Champions this year, but we wanted to take the time to recognize those Champions who are working hard to not only improve Arlington County as a whole, but also their particular neighborhood. That's why September's Champion of the Month is Arlington Street People's Assistance Network, better known as A-SPAN.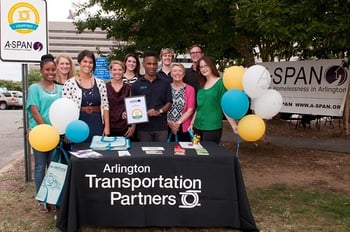 Currently located in Shirlington, A-SPAN is planning to move to the Courthouse area in 2015. Not only has A-SPAN worked hard to better the lives of Arlington's homeless population through housing, supportive services, shelters and street services, but A-SPAN recently pledged to help their new neighborhood.
A-SPAN first joined ATP's 2014 Champions in May as a Bronze Level Champion and recently moved up a level to Silver Level after adopting an ART bus stop, just steps from their soon-to-be office building in Courthouse. A-SPAN has not only pledged to maintain an ART bus stop, but they have also made a commitment to the Courthouse community to show that they are a great neighbor and asset.
On August 11, A-SPAN and ATP held a ribbon cutting for the newly adopted ART bus stop to honor our Champion for all their hard work.
As a Silver Level Champion, A-SPAN have shown their support for transportation programs and have strived to positively impact Arlington County by offering their employees improved commuting methods and alternate transit options. Check out what A-SPAN has done so far in 2014:
Offers flex-time/staggered work schedule
Offers formal telework program for more than 50% of their employees
Participating in Car-Free Day (happening September 22, pledge here!)
Shared alternate transportation solutions, like Car-Free Near Me on their website
Adopted an ART bus stop in Courthouse
Promotes biking and walking to work to their employees and clients
A-SPAN are well on their way to becoming a Gold Level Champion and ATP looks forward to celebrating that Gold Level status in the very near future. View an interactive map and locate A-SPAN's newly adopted bus stop.