It's no secret that ATP loves highlighting our Champions, particularly our impressive Residential communities! With over 55 multi-family properties enrolled in Champions, our clients represent a diverse mix of Arlington's residential market, ranging from luxury high-rise condos to affordable garden style apartments.

This month we'd like to showcase one of our most dedicated Residential Champions, E.G. Reinsch Companies! E.G. Reinsch Companies have built, owned and managed rental properties in Northern Virginia for over 60 years. Family owned and operated, they strive to provide charming apartment communities while continually supporting Arlington's sustainable vision. For the second consecutive year, they've even partnered with ATP to successfully enroll all of their residential properties into Champions.
Since partnering with ATP, E.G. Reinsch's committed Property Managers have taken full advantage of Arlington County's complementary transportation programs and services. Residents enjoy free transit brochures/maps, customized transportation materials and access to promotions, such as Car2Go's discounted memberships. Added bonus – their friendly employees are also regulars at ATP's #NetworkWithChampions events and always eager to support our friends BikeArlington, WalkArlington and Mobility Lab on social media.
We'd particularly like to give a special shout out to E.G. Reinsch's Gold Level Champion, Dorchester Apartments, which is on track to become Arlington's first Platinum garden style residential property on Columbia Pike!
Dorchester Apartments proves you don't have to be a new luxury complex, with uber-expensive amenities, to rise to the top of ATP's Champions leaderboard.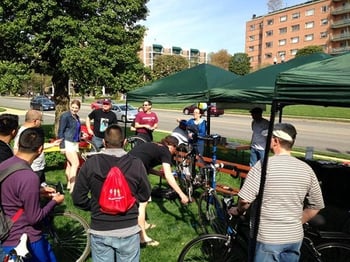 Their enthusiastic management team offers residents creative transportation incentives to promote Columbia Pike's abundant bus service, nearby Capital Bikeshare stations and walkable neighborhood events. Our favorite incentive - residents coming car free to the property are rewarded with preloaded SmarTrip cards!
And that's not all…E.G. Reinsch Companies recently partnered with another local Silver Level Champion, Papillon Cycles, to host Bike on the Pike. These free bike tune-up events are open to the public and encourage Arlingtonians to dust off their old bikes and explore the Pike on two wheels!
Aren't you impressed with our dedicated Champion of the Month? Are you ready to recognize your residential property as a Champion? Contact me to partner with ATP in providing your residents an ideal place to live, work and play!