Congratulations to HDR for being the Champion of the Month by demonstrating their continuous commitment to making commuting easy for their employees. HDR has been a part of the Arlington Transportation Partners' (ATP) Champions program since their move to 3001 Washington Boulevard in 2016.
Located close to Clarendon Metro Station, HDR offers stellar transit benefits to its employees that include a formal telework policy and a transit benefit that includes a combination of a direct and pre-tax transit subsidy. Parking costs in the building garage is the employee's responsibility. In addition, HDR is committed to be a good partner in the community by adopting an ART bus stop.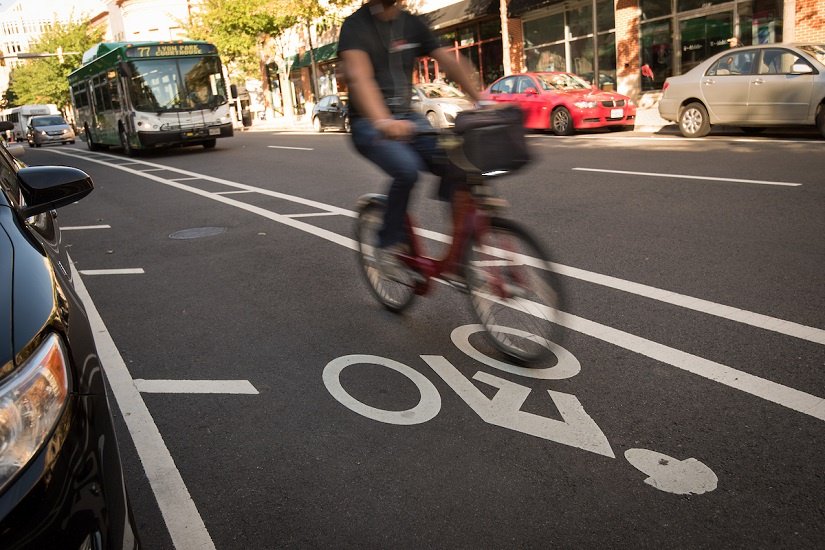 Boosting
Bike Commutes
HDR fosters a healthy work environment and gives top priority to employee health and wellness. To encourage active commuting amongst its employees and highlight the building amenities that are available to employees, HDR hosted its annual bike safety and education event with ATP.
This event was attended by regular bike commuters and employees interested in commuting via bike. At the event ATP staff assisted interested employees with bike routes, information about upcoming learn to ride and city cycling classes, and bike safety tips. Events like these have been well received by the employees and some are considering giving bike commuting a try.
This year HDR will apply for the Bicycle Friendly Business application with assistance from ATP as part of their Champions goal.
Building Level Engagement
HDR benefits at the building level as well in 3001 Washington Boulevard, managed by Transwestern, a fellow Champion. The building offers great amenities such as secured bike parking, showers and access to fitness center. In addition, the building hosts transportation events in the lobby to share information about transit options and biking to work. Amenities like these encourage active commuting amongst the building tenants. Several employees at HDR take advantage of these amenities.
Become a Champion
HDR continues to demonstrate their commitment to making commuting easy for their employees. Your organization can also enroll in Champions and take advantage of complimentary transportation consulting services. Find benefit programs for your employees that will boost wellness, work/life balance, and set your organization as a leader in sustainability.
Photo Credit: Sam Kittner/Kittner.com for Arlington Transportation Partners