Central Place, one of JBG Smith's newest development projects in the region, features two high rise properties located in the heart of the amenity-rich urban village of Rosslyn. The 560,000 square-foot, 31-story office building is the tallest tower in the DC area and situated directly across from the Rosslyn Metro Station. The property will also be home to the region's first observation deck featuring panoramic views of DC and Northern Virginia.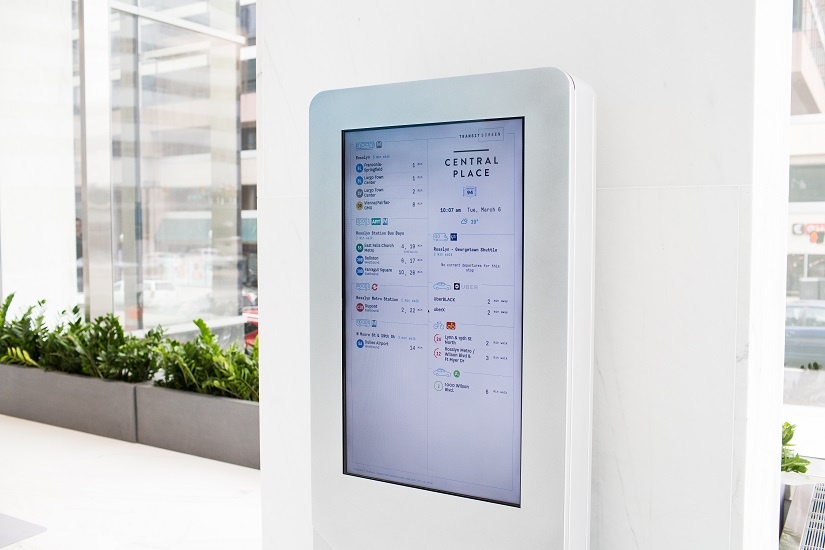 Welcoming Gartner & Showcasing Amenities
Earlier this year, Central Place opened for business welcoming their first and largest tenant, Gartner, who moved over a thousand employees from their former office located just one block away. While most Gartner employees didn't have much change in their commute, management was able to identify that a tenant event would allow them to highlight some of their building's amenities. Many amenities showcased play an integral part in the way employees choose to commute, including a secure bike room equipped with bike tune-up equipment, shower and locker facilities, reserved carpool and vanpool spaces in the garage, and a real-time transportation display in the lobby.
The welcome event attracted over 700 Gartner employees allowing Arlington Transportation Partners (ATP) to assist individuals who were interested in new commutes and others who simply wanted to have an emergency commute option. ATP was also able to introduce and explain to tenants the unique transit benefits that JBG Smith and Central Place offer that includes the tenant's choice of a preloaded SmarTrip card, annual Capital Bikeshare membership, or an annual membership in a carshare program of their choice.
The success of this event prompted management to schedule additional events to further engage and provide benefits to tenants, especially as Central Place welcomes another long-term tenant this month.
Easing the Commuting Conundrum
ATP would like to congratulate Central Place on a successful opening event and for reaching Silver Level in our Champions program. Central Place's partnership and willingness to ease their tenants' commutes make them our Champion of the Month. As stated by JBG Smith's property management team:
"Commuting to and from work plays an important role in our tenant's quality of life, and Arlington Transportation Partners works with us to prioritize and simplify that task."
Central Place's welcome event shows their continued and proactive effort to deliver when it comes to relocation and understanding the value of transportation options and the tenant demand for them.
Ready for Recognition
Is your property ready to be recognized for exceptional amenities and sustainable transportation programs? It starts with Champions. Join JBG Smith and Central Place as a leader in the Arlington community.
Photo Credit: Reema Desai/ReemaDesai.com for Arlington Transportation Partners