ATP is excited to highlight 2016's first Champion of the Month, Lowe Enterprises! A newcomer to Champions, this national real estate company owns and manages four properties in Crystal City that recently enrolled in the program – 1400 Crystal Drive, Jefferson Plaza and Century Center I and II.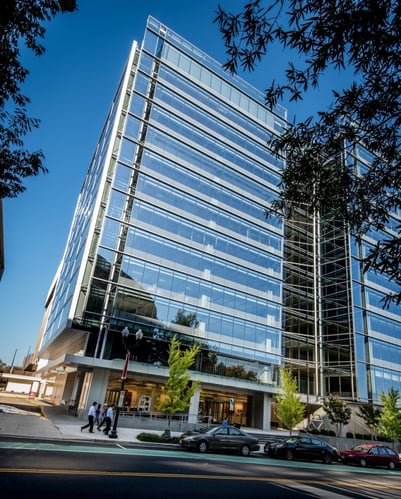 1400 Crystal Drive, offers 308,000 square feet of Class A office space with views of the Washington, DC skyline and the Potomac River. Located two blocks from the Crystal City Metro Station, the LEED Gold Certified building was completed in 2013. Jefferson Plaza is located next door and consists of over 270,000 square feet of office space and recently underwent significant renovations in the lobby and common areas.
Century Center at Crystal City consists of two office towers totaling 560,000 square feet of office space, as well as 60,000 square feet of retail located in the ground floor promenade that connects both buildings. The properties have also undergone multi-million dollar upgrades and enhancements over the past several years with numerous plans in the works for 2016.
Lowe Enterprises has demonstrated a strong commitment to sustainable transportation and promoting commuting options to tenants. Since meeting with ATP, several additional opportunities have been identified to move the buildings up to Silver or Gold Level such as tenant events, Capital Bikeshare memberships, and bicycle facilities.
Current and planned amenities at the properties include:
Secure bicycle parking (currently at 1400 Crystal Drive, to be completed in 2016 at Century Center)
Fitness center with showers and lockers (currently at 1400 Crystal Drive, to be completed in 2016 at both Jefferson Plaza and Century Center)
Free parking for vanpools, discounted parking for carpools (currently at 1400 Crystal Drive)
Free transportation maps, brochures and information in the lobby (currently at 1400 Crystal Drive and Century Center)
Annual Capital Bikeshare memberships as tenant raffle prizes (Century Center)
This year, Lowe Enterprises has partnered with ATP to further encourage sustainable transportation options through a number of programs, including hosting a National Walking Day event at Century Center, an Earth Day event at 1400 Crystal Drive, as well as upcoming tenant roundtables and initiatives to assist relocating tenants in the buildings.
With hundreds of employees commuting to and from their properties each day, Lowe Enterprises understands the benefits of locating in such an accessible location with so many different transportation options. By providing additional resources, incentives and information to tenants, Lowe Enterprises can have a significant impact on the transportation system as well as the local community and region.
Interested in joining Champions? Email us to be a part of an elite group of companies and properties dedicated to improving Arlington County through sustainable transportation.
Photo Credit: Sam Kittner/Kittner.com