Centrally located in Rosslyn, Park Georgetown is our Champion of the Month and boasts garden-style apartments that overlook the entire Washington, DC skyline. The multi-family residential community is located near Metro and just minutes by foot or bike from historic Georgetown.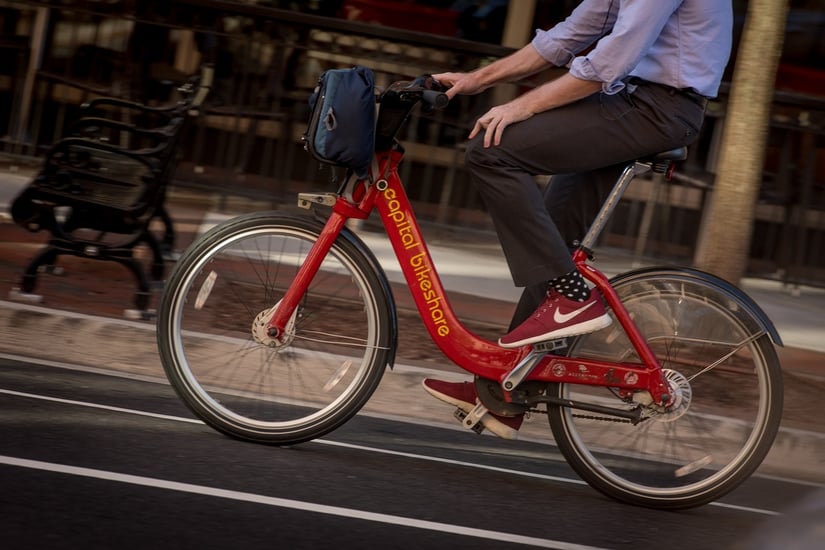 Park Georgetown's Partnership
Park Georgetown has been involved in Arlington Transportation Partners' (ATP) Champions program since 2014, continually participating in transportation programs and leveling up along the way. Specifically through their partnership with ATP, Park Georgetown has improved their bike parking and has brought carshare partner, Zipcar, directly onto their property. This improvement allows residents without cars easy access to a vehicle without the barrier of ownership.
They have also partnered with Capital Bikeshare and worked through the process of siting and installing a Capital Bikeshare station on their property, allowing even easier access for residents to bike around Arlington.
2017 Goals Set
When I met with Matthew to re-enroll Park Georgetown in Champions 2017, he set the goal of reaching Platinum Level this year. Native to the area and with a personal passion for sustainability, Matt puts the needs of his residents first. He understands the difficulties of moving into a new apartment and works to ease this transition by providing residents with great ways to get around.
Resident Perks
This high level of resident satisfaction resulted in the property purchasing SmarTrip cards and free 24-hour Capital Bikeshare passes for new residents. For residents interested in biking, they are given a free 24-hour Capital Bikeshare pass to try the station on the property and to see if they might be interested in their own membership. Alternatively, for residents who are leaning towards using Metro, they are given a $10 SmarTrip card to start using the system.
The fact that the staff at Park Georgetown provides these options to new residents shows that they really understand the deep connection between housing, transportation, and the needs of new Arlington residents. This customized approach eases the transition for new tenants and allows them to get around by their choice of active mode easily.
Partner Perks
Taking it to another level, Park Georgetown values their relationship with ATP. They have continued to attend our events and banquets and recently sponsored tickets for our first networking event of the year. This event would not have been such a success without their support and participation.
Congratulations to Park Georgetown for reaching Platinum Level and for being May's Champion of the Month!
Not a Champion?
Not yet a Champion? There's still plenty of time to join the program and for your property to reach Platinum Level status.
Photo Credit: Sam Kittner/Kittner.com for Arlington Transportation Partners