Arlington Transportation Partners (ATP) is proud to recognize The Hilton Arlington & Towers as June's Champion of the Month. The hotel located in Ballston, is situated near a major transportation hub connecting Metrobus and ART buses with Metrorail's Orange and Silver Lines.
The hotel's location makes it an ideal choice for visitors and guests to the Washington, DC area for work or vacation. Trips to the monuments, museums, shopping or a meeting in downtown DC or Tysons Corner are easily accessible via the different multi-modal options available from this great location. The hotel staff is also well educated in sharing information about the nearby transportation options with the help of ATP.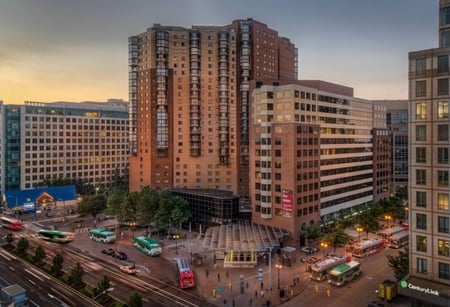 In 2015, the hotel was a 'newbie' to Champions and some of the most appreciated services were the customized Quick Glances that complimented the free brochure services. Being a Champion offers an opportunity to implement or enhance benefits and to be recognized for your company's efforts to improve the County through sustainable transportation and reduced traffic. In 2016, Jill Raisig, Director of Human Resources, was among the first few employers in Ballston to re-enroll for Champions 2016. Jill appreciates the recognition and visibility the hotel receives through Champions as well as the cost savings and benefits to their employees.
During the initial Champions meeting, The Hilton Arlington & Towers was identified as a Bronze Level Champion and Jill Raisig knew immediately that she wanted the hotel to excel to Silver. Three goals for achieving Silver Level were established that would help the hotel shine as a community partner and also assist employees in improving their current commute.
In the last few months, Hilton Arlington & Towers has completed the following goals and we're excited to recognize The Hilton Arlington & Towers as a Silver Level Champion.
Participated in our annual National Walking Day event
Hosted a transportation event for employees
Additionally, in an effort to make commuting easy and stress free, the hotel encourages employees to use alternate commuting modes and offers great benefits that include a pre-tax transit benefit and lockers/shower access for bike commuters. To further improve employee commutes, Arlington Transportation Partners plans to work with the hotel on a transportation survey to evaluate current benefits and to determine improvements on how employees commute to work. In a service industry where employees work in shifts, we understand that Metrorail and bus may not be the best option; the survey will help in determining other modes that may be more conducive such as carpooling or vanpooling. While there are many third party companies that conduct surveys for a fee, the Hilton appreciates ATP's complimentary survey assistance.
Congratulations to The Hilton Arlington & Towers! We look forward to working with you on your next goals and are proud to recognize you as June's Champion of the Month.
Photo Credit: Sam Kittner/Kittner.com