It's only been a couple weeks since we officially started Champions, ATP's yearlong recognition initiative, however, we already have 19 companies and residential properties that have joined the program!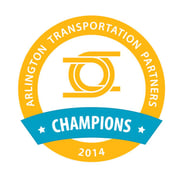 These Arlington organizations and multi-family residences have demonstrated a strong commitment in providing outstanding commuter benefits and amenities as well as encouraging their employees and residents to explore additional transportation options. By partnering with ATP through the Champions program, participants will be recognized for their current transportation efforts, as well as any new programs they implement over the next eight months.
The Champions program is designed for all types of organizations and properties, therefore we've created criteria and goals that even the smallest companies or buildings can meet to earn recognition. Check out the Employer, Residential, and Developer pages to see if you are a Bronze, Silver, Gold, or Platinum Level Champion – then contact ATP to learn how to get started!
Keep an eye out on our website, newsletters, social media, and other publications for highlights on participating companies, properties, and real estate developers!
In the meantime, congratulations to the current Champions participants! We are excited to have you on board!
Residential Properties
2201 Pershing Apartments (Equity Residential) - Silver
Penrose Square (BM Smith) - Silver
Dolley Madison Towers (Dittmar) - Silver
Bennett Park Apartments (WRIT) - Gold
Employers
Air Conditioning Heating & Refrigeration Institute - Gold
American Society of Transplant Surgeons - Gold
American Waterways Operators - Gold
aXseum Solutions - Silver
Conservation International - Gold
Consumer Electronics Association - Platinum
Definitive Logic - Silver
ERG - Gold
Hyatt Regency Crystal City - Silver
International Relief and Development - Gold
Jacobs Consultancy - Gold
National Rural Electric Cooperative Association - Platinum
PAE – Gold
PBS – Public Broadcasting System - Gold
Potomac Yard Marriott Renaissance Hotel and Residence Inn - Gold