Every month, the team here at Arlington Transportation Partners (ATP) works hard to help businesses, developers and property managers make a difference in the County through their transportation programs. By evaluating and making recommendations on how companies and properties can improve programs, infrastructure and incentives, ATP strives to recognize the businesses and developers who have made an open commitment to that effort through our free program called Champions.
Champions is a free program that provides PR and County-wide recognition through our website, social media, and in many County publications. Champions also receive the opportunity to network with like-minded individuals at happy hours and our year-end banquet. Watch below as Wendy Duren, ATP Program Director, explains why Champions is your business or property's best opportunity.
Check out new Champions and businesses and residential communities that moved up a level within the last 30 days.
GOLD LEVEL
ASTHO
Environ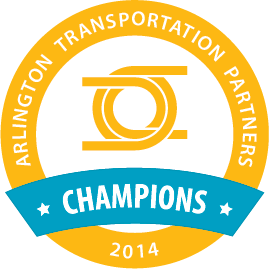 Hilton Garden Inn – Shirlington
Maria Teresa's Babies, Inc.
Marymount University
SILVER LEVEL
Cambridge Associates, LLC
Doorways for Women and Families
19Nineteen Clarendon (ZRS Management)
BRONZE LEVEL
2001 Clarendon Boulevard (Legend Management Group)
Ballston Square (Avalon Bay Communities)
Classic Concierge
Parc Rosslyn (Paradigm Management)
The Beacon Clarendon (ZRS Management)
Vista on Courthouse (Equity Residential)
Your company could be Arlington's next Champion – email ATP today at solutions@transpartners.com.