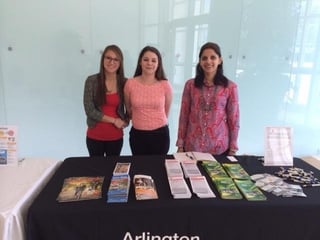 This week, the ATP staff has been in and out of the office attending events for various Arlington employers and properties – seven events in fact! With Earth Day being on Tuesday, as well as several wellness-themed activities ( i.e. National Walk at Lunch Day, Bike to Work Day) coming up this spring, many companies and properties decided it was a good time to have Earth Day events or health fairs. ATP was happy to provide information about sustainable transportation options such as Metro, bus, and ridesharing while also talking about healthy ways to get to work, including Capital Bikeshare and walking.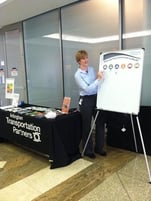 Inviting ATP to participate in a wellness or transportation fair for your employees or tenants is an easy way to meet Champions criteria. As a Silver Level activity, fairs or events are fun, interactive, and low-cost ways to encourage healthier lifestyles and be recognized for it! It also doesn't have to be Earth Day or Bike Month to have an event with ATP – we do fairs throughout the year for both large and small companies as well as commercial and residential buildings.
Keep ATP in mind next time you host an event for your employees or tenants! In addition to providing brochures, maps, and other information, we'll also bring fun giveaways, coupons, and raffle prizes. Chat with us today about hosting an event and moving your way up through the Champions program!