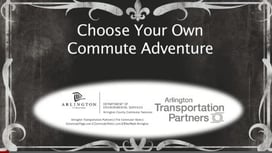 We are excited to announce the release of the first episode from a new four-part video series produced by your commuting experts at ATP! The Choose Your Own Commute Adventure series will explore four different ways you can get to work (driving alone not included!), and lets our commuters figure out which mode works best for them. The first episode is now available for your viewing pleasure on the ATP Youtube channel and our homepage, and features fun things such as a trip to Australia and weekly spa days! Be sure to check back each week to see the following episode and find out what happens next!
The issues faced by our commuters in the video series might seem familiar to those who drive to work every day and want to figure out a better solution. Maybe you're trying to avoid that hefty payment for a new car transmission, or want to save extra money for a family trip to Hawaii, or are just trying to lose that extra five pounds – whatever it is that you want to change, leaving your car at home and improving your commute can actually have an impact on your wallet, waistline, and mental health!
So which commute adventure will you choose? Watch the first episode and let us know what you think! Also, be sure to connect with us on Twitter and Facebook so you can stay up to date and know when the next episodes are released, as well as learn about other important commuting information. Hope you enjoy our series!