This month, we are excited to recognize Clarendon Center as ATP's Champion of the Month. Owned and managed by Saul Centers, Clarendon Center is a mixed-use development located directly across from the Clarendon Metro Station. The site features a six story office building and a nine story office building with a total of over 170,000 rentable square feet as well as a multi-family residential tower. Completed in 2012, the three properties span a two block area and all feature ground floor retail.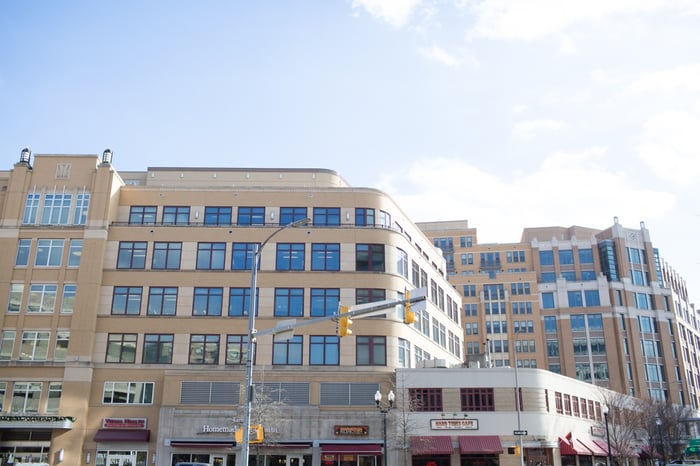 Currently a Gold Level Champion, the office properties have been recognized in Champions since 2013 as a result of management's commitment to promoting sustainable commute modes and providing outstanding transportation amenities to tenants.
Most recently, Clarendon Center partnered with ATP to voluntarily conduct a transportation survey of the office tenants, earning the property additional Gold Level credit and recognition. With a significant focus on transportation and location, building management had taken a strong interest in learning more about the commuting patterns of building occupants, overall awareness and use of current building amenities and programs as well as potential interest in additional services.
The survey results found that only 51% of office employees drive alone to work, lower than the County average of 55%. The remainder of respondents reported commuting by transit, carpooling, biking, walking and telework. The survey also showed there was additional interest in carpool programs such as finding matches within the building, as well as Guaranteed Ride Home and transit benefits.
In addition to receiving recognition for the survey, the properties feature several transportation amenities and programs available to tenants that aim to encourage sustainable commute options and reduce traffic congestion in the area.
Secure bicycle parking

Preferential carpool and vanpool parking

Discounted carpool parking rates and free vanpool parking rates

Showers and lockers in tenant-only fitness center

Annual tenant transportation events

Customized transportation information on local commute options
Saul Centers has also distributed free Capital Bikeshare memberships over the past year, promoted National Walking Day and Bike to Work Day and encouraged tenants themselves to join and participate in Champions.
Congratulations to Clarendon Center!
Photo Credit: Reema Desai/ReemaDesai.com