I bike to work every day. I bike to run errands. I bike to dinners out with my husband, or to meet friends. Basically, I bike just about everywhere - except for the places where I don't feel comfortable.
When it comes down to it, although I have been biking for transportation for several years, I still consider myself a "chicken" cyclist. I prefer bike lanes, neighborhood streets or trails and don't like biking on streets with only sharrows and no dedicated bike lanes. I'm not brave like many other people who bike anywhere.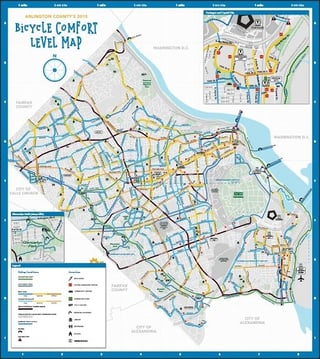 Enter a brilliant new map from our friends at BikeArlington – the Bicycle Comfort Level Map. Subtitled, "The best map of Arlington for getting around stress free," this map focuses solely on easy, medium and difficult riding conditions. The details of the regular Arlington County Bike Map are stripped away, leaving the Comfort Map clean and easy to read.
Roads are color-coded and labeled to show off-street trails, bike lanes and suggested routes, while "strongly discouraged" routes pop out in red-edged black lines. Hills are marked with directional arrows, and places where you need to "use caution," are marked with exclamation points. The new map makes it easy to see, in one glance, where you will be most comfortable biking. Want the easy routes? Look for light blue lines!
The Comfort Map also has bike-related amenities indicated, such as drinking fountains, restrooms, Fix-It stations and bike shops; also listed are Metro Stations, Capital Bikeshare stations and Commuter Stores. Libraries, communities and schools are marked, which makes this map perfect for anyone interested in biking to school or local events. The back of the map explains the easy-medium-difficult designations, along with other information, including the Arlington Loop, tips on being a PAL, RackSpotter.com, and a more detailed inset of the Rosslyn-Ballston corridor.
BikeArlington and Arlington County bicycle planners started the Comfort Map process in 2013, by collecting feedback from the bicycling community as well as their own "wheels on the ground" observations and experiences. It's been a long process to create this map, but one that is truly crowd-sourced. They understand that it is still a work in progress and welcome feedback. Feel free to email info@bikearlington.com with any helpful suggestions or favorite safe routes for future map updates.
Keep in mind that there is a difference between "comfort" and "difficulty." A road could be comfortable, such as a buffered bike lane, but may also be steep, which makes it difficult. Or a road could be flat, but not have bike lanes or sharrows, so it would not be comfortable.
Check it out, leave some feedback and I'll see you on the blue lines!