It's no secret that Arlington has long been a model of transit-oriented development and has consistently taken a progressive approach to transportation and future system demands. Since the opening of Metrorail in the 1970s, the county has focused growth around these stations to encourage higher density and urban development, as well as the use of public transit instead of driving. The additional service of Metrobus and ART, as well as Capital Bikeshare and the installation of bike infrastructure have given Arlington residents and employees many different options when it comes to traveling in the region. By providing non-driving modes of transportation, the county experiences less gridlock and traffic than what is typical in other parts of the DC Metro region. In fact, congestion levels in Arlington have stayed relatively the same over the past thirty years, despite large increases in population and commercial growth.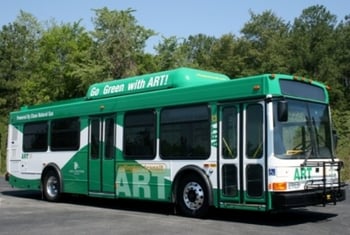 Data has shown that commuting trends in the county are shifting towards more sustainable modes of transportation. According to recent Census data, between 2000 and 2011, transit use among commuters in Arlington rose 5%, from 23.3% to 28.4%, and had the fastest rate of growth out of any other jurisdiction in the DC region. In addition, thousands of riders enter Metrorail stations in Arlington every day, and for 2012, three stations (Pentagon, Pentagon City, and Rosslyn) all had over 15,000 average weekday passenger boardings. ART buses have also seen increases in ridership in recent years, especially since more routes were added and rush-hour only buses became all-day service. Between just 2008 and 2011, ridership grew by over a million trips, nearly an 86% increase in just 3 years. Since Capital Bikeshare was launched in 2010 in DC and Arlington, stations and system ridership have grown steadily. Starting with only 10 stations, Arlington has since expanded to 46 stations, primarily in the Rosslyn-Ballston corridor and Pentagon City/Crystal City area. Ridership has coincided with the expansion – in September 2011, 6,200 trips were made, while in September 2012, over 16,500 trips were made in Arlington.
These commuting and transportation trends will only continue to increase as Arlington plans new transportation improvements and infrastructure to accommodate the significant forecasted growth in population and commercial development. These include a variety of projects that range from the Crystal City and Columbia Pike streetcars and the new entrance at the Rosslyn Metro station, to bike facilities and pedestrian improvements on numerous streets and intersections. Capital Bikeshare is also significantly expanding in Arlington, as over 30 new stations will be installed in areas such as Columbia Pike and Shirlington within the next year.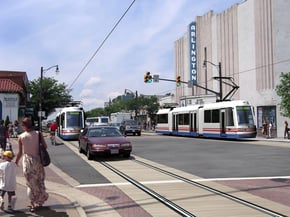 In Arlington, reduced traffic congestion and a high quality of life are not just the result of building the physical infrastructure or transit capacity. As seen through the initiatives of Arlington County Commuter Services, Arlington's plan has worked because of the additional programs, marketing, and outreach provided to employees and residents in the county to encourage the use of sustainable transportation modes. At Arlington Transportation Partners, we continue to work with employers and residential properties to make commuting easier. By providing materials on travel options, information about transit benefits, and many other commuter services, ATP's programs work to complement all the existing and future transportation infrastructure in the county. As people become more aware of the transportation choices available to them, such as transit, carpooling, biking, and walking, we can help continue to make Arlington a great place to live and work, and ultimately benefit the economic, social, and environmental health in the region.
Remember, we are here to make transportation simple! To learn more about what ATP can do for your company or property, check out our Services Guide or contact us at solutions@transpartners.com.