In 2012, a record 18.9 million tourists visited Washington, DC and the surrounding Metro areas; each year since, the tourism scene has continued to grow. For many locals and businesses alike, tourism numbers start to increase in March corresponding with the annual Cherry Blossom Festival, peeking mid-Summer and often carrying well through Fall.
Arlington and DC are top bucket-list destinations for tourists due to the complimentary nature of most major attractions. Free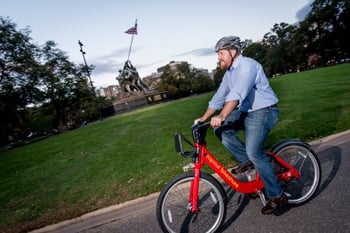 stuff to do translates into visitors and visitors translates into business for local hoteliers, particularly those in Arlington County that are only a few Metro stops away from top attractions like the Smithsonian Museums and the White House.
Offering competitive rates and locations to downtown hotels, many guests often choose Arlington as the place to rest their head. But once a hotel's guests have arrived, the staff will need to help them use public transportation to make the most of their stay. As a hotel located in Arlington County, you have an important (and free) tool at your fingertips – Arlington Transportation Partners (ATP).
ATP is Arlington's business-to-business transportation consulting organization and consists of Business Development Managers that help local hoteliers by offering free services and information to all concierges and hospitality staff. Through ATP's assistance, hotel staff will be a shining example of true local hospitality and service.
ATP's complementary services include, but are not limited to:
Airport to Hotel customized information
Capital Bikeshare training and information
Customized nearby transportation materials for your hotel
Transportation brochures, ranging from bus routes to bike maps
Public transportation options training
ATP can also help your hotel order Capital Bikeshare 24-hour day passes and pre-loaded SmarTrip cards for guests to purchase at the front desk.
When it comes to making guests happy, Arlington Transportation Partners can help you help guests cross off those DC bucket-list items!
For more information, contact Maggie Awad at Arlington Transportation Partners.
Email: solutions@transpartners.com | Phone: 703.247.9291