Yesterday, ATP recognized our 2014 Platinum Champions in front of the Arlington County Board.
We were able to share with County Board Chair Mary Hynes, as well as the rest of the County Board, the success of our Champions program as we honored the top seven companies who achieved Platinum Level status in 2014.
Since 2013, Champions has grown 265% in participation as we recognized and rewarded 122 Champions in 2014.
Huge thank you to all our Champions and to the Arlington County Board for helping us to recognize companies in Arlington County who are dedicated to transportation programs and initiatives.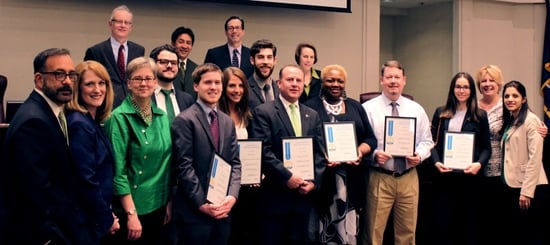 Congratulations 2014 Platinum Level Champions
Boeing Long Bridge
Consumer Electronics Association
The Convention Store
George Mason University, Arlington Campus
National Science Foundation
National Rural Electric Cooperative Association
SRA International
>> Visit our Facebook page for even more photos from the event.
ATP is now welcoming and enrolling 2015 Champions. If your business, residential community or commercial property is looking to be recognized for your transit programs or if your company is looking to implement new initiatives, now is the time to join Champions!
>> Contact us via email at solutions@transpartners.com or call us at 703.247.9299.