As the 2015-2016 school year comes to a close, Arlington Transportation Partners would like to recognize the excellence achieved throughout the school year by Arlington Public Schools Champions – congratulations to all of you!
This year's 15 APS Champions promoted transportation options, hosted ATP at staff events and participated in biking, walking, transit and carpooling events. Four of the APS schools showed true leadership and moved to Silver (Glebe Elementary School and Swanson Middle School), Gold (Discovery Elementary School) and Platinum (Oakridge Elementary School) by adopting ART bus stops, creating walking and biking clubs, creating staff carpools, adding staff carpool parking where none previously existed, completing employee commute surveys and travel tallies, creating transportation displays and celebrating staff Super Commuters.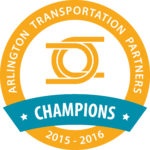 Feedback has been overwhelmingly positive across Arlington Public Schools. Swanson Middle School's Scott McKeown, said that being a Champion is more about helping staff and being a good neighbor. Dr. Lynne Wright, principal of Oakridge Elementary School, said that their monthly Super Commuter designation has become competitive, with teachers vying to be next – now that's what we like to hear!
Based on feedback and what we've learned, we are shaking things up a bit for Champions in 2016-2017. Levels will include activities that are more specific to tracking commutes, creating/implementing plans and reaching goals. The revision will make it easier to understand and easier to create individual school-focused transportation strategies that help reduce traffic congestion, encourage more active transportation and help schools achieve their sustainability goals.
Look for more information later this summer.
Interested in joining Champions? Email us to be a part of an elite group of companies and properties dedicated to improving Arlington County through sustainable transportation.