My morning commute usually begins with a lengthy walk to the Metro, followed by a short train ride. The regularity in which I traverse this route has helped me become an expert on its subtleties. I know which street crossings require a little extra caution, which houses tend to be a little slow on their snow-clearing duties, and the name of the man who passes out The Express at the top of the Metro station.
Then I watched this video, which follows a comedian with cerebral palsy as he makes his way around New York City in a wheelchair. It allowed me to see my commute in a new light. In a wheelchair, how would I move past a recycling bin on the sidewalk, what are my options if I'm running late to work, and where is the elevator even located to reach my underground train?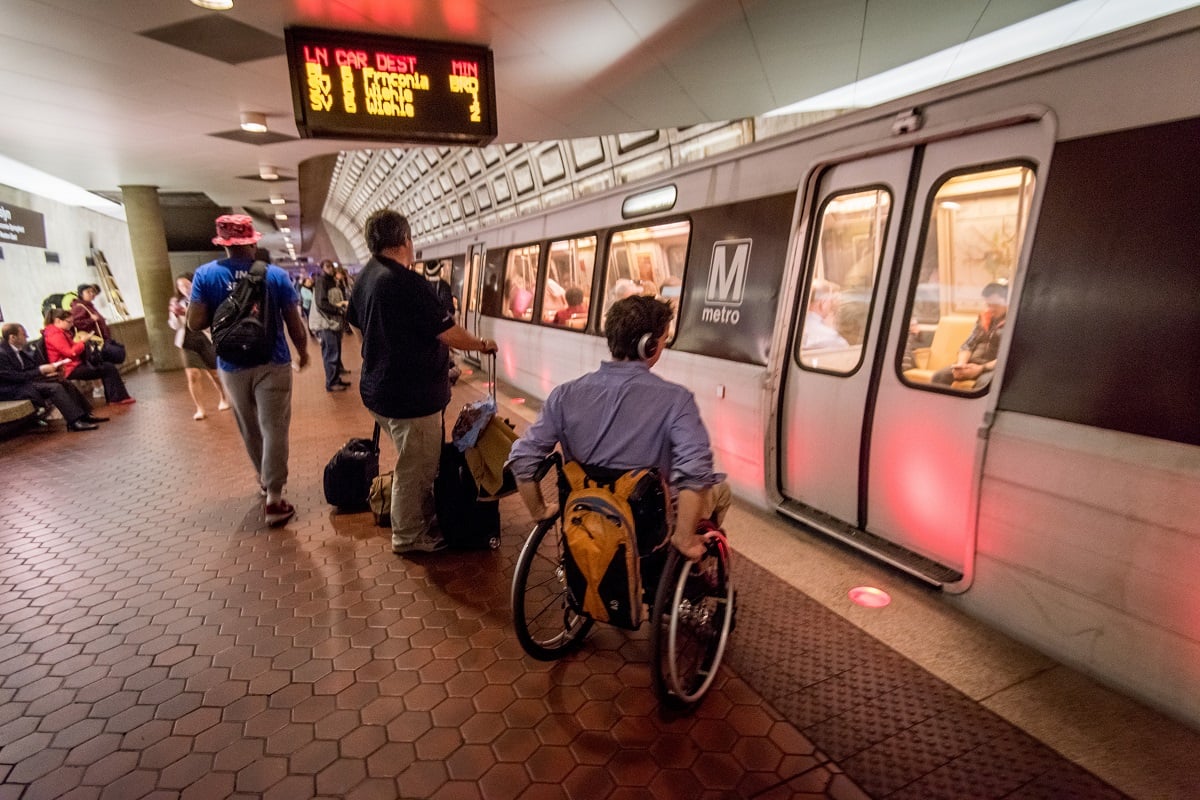 Unforeseen Problem Areas
Viewing my commute through a new lens and reading firsthand accounts from disability advocates, I've noticed specific circumstances that make a journey burdensome or even impossible in a wheelchair.
Access to Metrorail
All 91 of the region's Metro stations are wheelchair accessible, but unfortunately this is more the exception than the rule when compared to other major transit systems. Only 117 of 472 stations in New York City are wheelchair accessible, only nine of 303 in Paris.
However, anyone who regularly checks WMATA alerts knows that elevators service can fail, and elevator outages can effectively close a Metro station down for those bound to a wheelchair. While WMATA does generate shuttle service to an accessible station, it can still be a major inconvenience.
Obstructed sidewalks
Depending on an individual's mobility challenge, an incorrectly parked e-scooter can render an otherwise clear sidewalk unnavigable. Snow, ice, a lazily positioned trash bin, a large road work sign—all of these can block sidewalk access. This can force someone to reroute or choose to temporarily use the street to move past an obstacle.
Paratransit
While all public buses and Metro stations operating in Arlington are wheelchair accessible, there are several reasons why the fixed route bus and rail system may not work for certain people.
Both Arlington Transit (ART) and WMATA offer a paratransit bus service for those in this category. Although these buses provide an important service, it is worth noting that they are not quite as easy to use as your standard public bus. First, they require proof of need in order to be eligible to ride, and secondly, they require advanced reservations. While these paratransit services are helpful, they can't be used for every transportation need.
Curb cuts
A curb cut is the small ramp cut into a sidewalk, allowing someone to smoothly transition from street to sidewalk in a wheelchair (or pushing a stroller, riding a bike, etc.). In order for curb cuts to be navigable, the curb space must be free from cars or other barriers.
A crowded curb cut can force a wheelchair bound commuter into a tough situation as they try to move from sidewalk to street, or vice versa.
Ridesharing apps
For many of us, ridesharing apps (such as Uber and Lyft) provide a reliable back-up option to our typical commute. Those traveling with a wheelchair, particularly an electronic wheelchair that can't be easily folded and stowed, the default options on the two most popular apps can likely not accommodate them.
Lyft
While Lyft offers a wheelchair-accessible service called Access in some markets, it does not appear to operate in Arlington. The app will redirect you to a third-party vendor who can provide this service, though likely not as on-demand as a standard Lyft ride.
Uber
Uber offers a service for people in wheelchairs, called UberWAV (wheelchair accessible vehicles) that operates in the DC Metro Area and appears to help address a vacuum in on-demand options.
Uber reportedly runs this service at a significant loss so that accessible rides are charged the same rate as a standard UberX. It is important to note, however, that wait times for UberWAVs can be significantly longer than one would expect for an UberX. Additionally, UberPool is not currently available for wheelchair users.
Accessibility Resources
For those requiring special accommodations or more information regarding accessibility, Arlington Transportation Partners can connect you to helpful resources. The region offers a variety of specialized mobility options and custom commute support.
For those not in a wheelchair, join me in keeping these problem areas in mind so we can better support our neighbors.
Accessibility of all forms (not just wheelchair) will be a topic highlighted in this year's Our Shared Street Pop-Up. This annual community gathering, organized by ATP, celebrates all forms of mobility and inclusive uses of public space. Stay tuned and up to date as we plan this year's event.
Photo Credit: Sam Kittner/Kittner.com for Arlington Transportation Partners