Arlington, VA is recognized as a Gold Level Walk Friendly Community. What does that mean?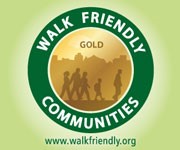 A Walk Friendly Community is a city or town that has demonstrated a commitment to improving and sustaining a safe walking environment through policies and planning. The Walk Friendly Communities is a national recognition and Arlington is proud to be one of only four communities to be honored at the Gold Level nationwide.
So, what makes Arlington a Gold Level Walk Friendly Community? Arlington's success is a combined effort of its outstanding transit-oriented planning, innovative transportation demand management strategies, education and outreach to its residents and employers through events like National Walking Day, WalkArlington's Walkabouts and more! Additionally, Arlington County continues to promote innovative programs like PAL and Street Smart.
Walkabouts are self-guided walking tours that you can explore at your own convenience. Currently Arlington has 25 walkabouts covering different urban villages from quaint neighborhoods to city streets to parks. Each Walkabout map lists the distance and type of terrain and a brief description of the neighborhood. Some of the most popular walkabouts are:
Order Walkabouts brochures online from our website for free! Which walkabout are you going to explore? Ready, set, walk!