Arlington Transportation Partners (ATP) loves giving recognition and rewards for all the great work our clients do when it comes to implementing and promoting transportation programs. That's why in addition to Champions, we also assist employers, residential properties and commercial office buildings with applying for and receiving awards through other national programs.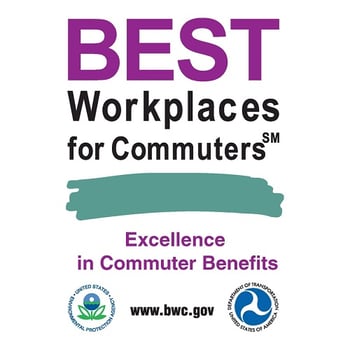 One program that we help companies and properties apply for is the Best Workplaces for Commuters (BWC), as well as its newer designation, Best Sites for Commuters. BWC is a membership-based program that gives qualified employers recognition for offering commuter benefits to employees. Similarly, the Best Sites program recognizes "commercial and retail developers, shopping malls, business campuses and other multi-employer developments" for the transportation programs and amenities offered to employees, building users, and visitors.
BWC is a program that offers participants numerous benefits including national recognition though digital and print media, materials to promote to employees/tenants, as well as resources to help businesses continue managing and implementing their commuter benefits.
The application process for BWC and Best Sites is straightforward and requires filling out an online questionnaire. As part of ATP's free services, we'll assist your business or property through the application to make sure you include all the necessary information relating to your commuter benefits program.
Also, not only can you complete criteria on our Champions checklist by applying for BWC, but ATP will also cover the membership fee for first time applicants who are ATP Champions! We want to make it as easy as possible for your organization to get recognized for the programs you're offering – providing commuter benefits and transportation amenities have a significant impact on the bottom line while also improving the local community.
Applying for the Best Workplaces/Sites for Commuters designation is just another one of the ways that ATP can assist your business or property in improving satisfaction among employees and residents, earning recognition and supporting healthy and sustainable transportation.