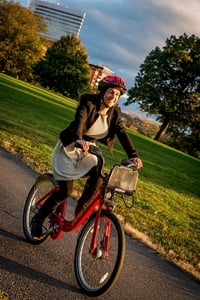 Quite a few people would easily agree that biking, low temperatures and snowy/icy roads don't go well together. Particularly this week when Mother Nature has showered us with plenty of snow and slush, resulting in icy patches. Good news, Spring is only a few weeks away and guess what happens in the Spring!
Spring is open enrollment and health fair season for a lot of companies in the area. At Arlington Transportation Partners (ATP) we love assisting our clients at events like health fairs and Earth Day events encouraging and educating employees on the different modes of transportation that are available to them.
Capital Bikeshare is one mode of transportation that is an easy, low-cost and convenient way to get around town. For companies/employers it's a great way to promote a healthier lifestyle.
Did you know you can receive a discounted rate on the annual membership (current annual membership is $75)? How about a FREE helmet with the membership? Through Capital Bikeshare's Corporate Membership program, employees can receive a discounted rate through one of four different membership levels (see below).
Employees can benefit from this low-cost and reliable way to get around during the workday. Arlington Transportation Partners is currently offering a FREE helmet with each membership purchased. Now that's a good deal!

Additionally, we are always available to participate in events and seminars to share more information about Capital Bikeshare with your employees, including details about how the system works, usage fees, bike safety and more. We'll also discuss general information about biking in Arlington during any type of weather and commuting tips. Email us today or leave a comment below!