If you've been reading our blog for awhile, you already know about our flagship program Champions. But did you know that we're now accepting and welcoming 2015 Champions?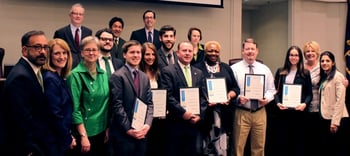 That's right; we officially wrapped up 2014 when we recognized our seven Platinum Level Champions in front of the Arlington County Board on Tuesday, March 17, 2015. Mary Hynes, Arlington County Board Chair, praised our Champions and Arlington Transportation Partners stating,
"I think what's so interesting about all this is that based on the size of your business, based on where you're located, the solutions that you choose are different; take advantage of whatever those assets are that are closest to your place of business. And it's multi-dimensional. It's not just about walking or transit. It's about bikes. It's about housing. It's about all kinds of things. And honestly, that's the beauty of what we're doing here. There are many ways to solve the problem of making it convenient for people to live and work in the same place. Thank you all so much for being pioneers."
2014 was only the beginning and in 2015 there are more benefits, more recognition and more opportunities. We tweaked our program to give our Champions even more!
No matter the size your company or property, or the resources available, there are many different ways to become a Champion.
As an employer, residential or commercial property, you have the opportunity to become a Bronze, Silver, Gold or Platinum Level Champion depending on programs and amenities
offered by your organization.
Over the next year, as you partner with ATP, you will become a shining example of how transportation programs serve and enhance your organization and work in Arlington. Each time you ascend to a new level, you will unlock new tiers of recognition and rewards for you and your organization.
If you're an existing Champion, chances are our reps are working hard to schedule your annual Champions meeting. If you're new to Champions or would like more information, just email solutions@transpartners.com to get started.