For those not in the know, Guaranteed Ride Home (GRH) is a program provided by Commuter Connections specifically offered to commuters who regularly (twice per week) use carpools, vanpools, biking, walking, or transit. The program provides a quick, easy and FREE way to get home from work in case of unforeseen circumstances up to 4 times a year.
Have you ever been hesitant to metro to work because your kids might need to come home sick? GRH.
Are you staying late for unscheduled overtime and your bus doesn't run that late? GRH.
Did you eat something you shouldn't have and now you need to get home in a flash? That's right, GRH.
>> You can read this blog post for an in depth FAQ and explanation of the GRH program, how to sign up and who is eligible.
Truly, GRH is a program that every single commuter without a car should be signed up for. Most of us here at Arlington Transportation Partners (ATP) carry the card for emergencies of our own (yes, things happen!).
A Personal Take
Recently, I was able to utilize the program to get myself home without a hassle. I needed to be home as quickly as possible and the metro runs at slower intervals midday when rush hour peaks are not in effect. I reached into my wallet and pulled out my handy dandy GRH card that you receive in the mail after signing up and called the number on the back. The process was as simple as this:
I called the number on the card
I clicked through two menus to request a ride
I spoke with a friendly representative who asked for my GRH ID number and confirmed both my home and work address
A local taxi was dispatched to my work address, the ETA was only 15 minutes
I stood on the sidewalk and the cab was there within 10 minutes. I was whisked home during the non-rush hour traffic and tipped the driver as I normally would based on the fare he quoted on his meter. The driver clicked on his tablet with trip details and the fare had been paid automatically by Commuter Connections, no extra work on my part!
I live in Balitmore, MD but work in Arlington, VA. Am I eligible?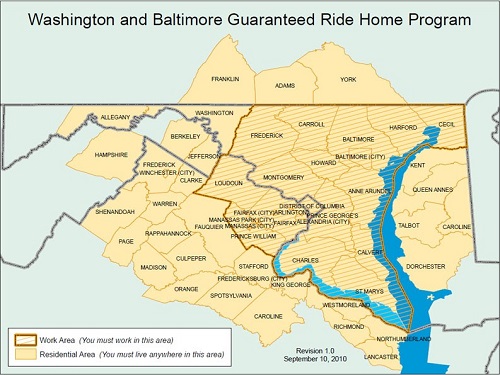 The most common concern about the GRH program is that a particular commuter will not be covered, that could not be farther from the truth. Check out this awesome infographic showing where you must work to be eligible, and how far out you can live.
I promise you are not seeing this incorrectly, the area of eligibility is that big. If you happen to work in Arlington, Virginia but live in Purcellville, Virginia – you are covered. That's a fair distance to be traveling on transit and sometimes you need to get home in a hurry. For more information on how to utilize non single-occupancy vehicle options on a trip like the one I just mentioned, check out our friends over at the Vanpool Alliance or Loudoun County Transit.
I hope my experience with the Guaranteed Ride Home program will remove your concerns for signing up, or give you the push to finally register for an outstanding and free to use service.
If you have any questions, concerns, or want to talk about your own experience using GRH – contact us at solutions@transpartners.com.