As transportation options change, Arlington businesses and properties likely need helpful information on how to best handle new modes. It's a good thing you have a knowledgeable and free resource, with experts dedicated to help your company take advantage of new transportation like dockless e-bikes and e-scooters. Check out some of our frequently asked questions and download our guide for quick reference.
For more information regarding the pilot program, visit Arlington County's dedicated page for shared mobility devices.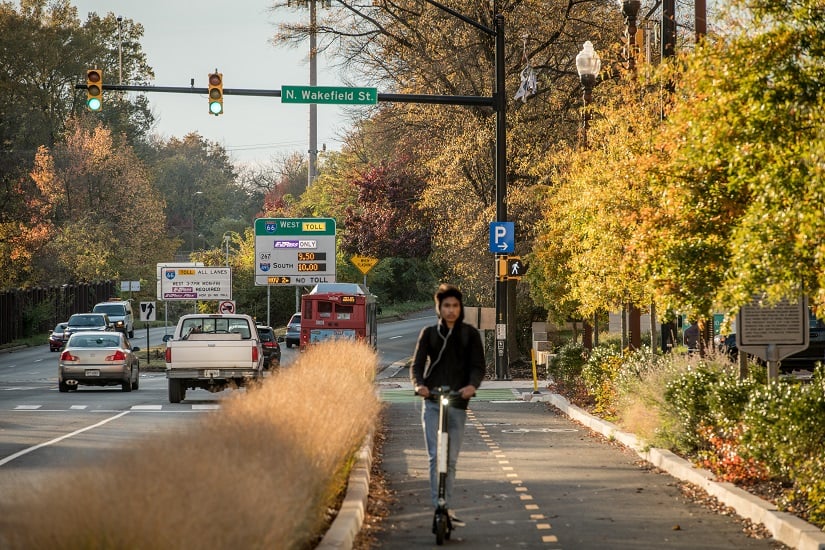 Go-To Resource
Visit RideDockless.com—a site dedicated to FAQs, rules, safety, and overall best practices for riders in Arlington, Virginia. Perfect for businesses, properties, and tenants.
For company-specific information regarding fees, memberships, or where to find a dockless bike or e-scooter, visit each company's website or app.
Parking Troubles?
If your building is a popular destination to end trips, there are a number of methods you can use to control crowding.
Create a corral
Designate a clear and visible area for users to leave and pick up dockless bikes or e-scooters. If there is extensive crowding, you can also contact the company (e.g., Bird, Lime, Lyft) to collect their bikes or e-scooters.
If you notice a device blocking the sidewalk and are able to move it, you may do so. Place the device a short distance away in a place that is still visible to future riders.
Restrict garages
When people park e-scooters inside a building or garage, it makes it difficult for future riders to find and use. As a property manager, you may restrict the interior of your building and garage from dockless bike or e-scooter parking and ask tenants to refrain from ending trips within the building.
If you find a dockless bike/e-scooter parked in your garage or in your bike room, you can either move the dockless device to a public space or call the company to have them remove it.
Maintain Curb Appeal
A property manager can maintain the aesthetic of a building's exterior and accommodate dockless bikes or e-scooters by creating a balance between form and function. Plants, benches, and artwork can still be the center of attention while properties can also create designated parking areas, effectively sharing the space.
Additional Solutions
Looking for more ways to handle dockless devices around your property or business? Download our comprehensive FAQ guide or contact your Arlington Transportation Partners representative for customized ideas.
Photo Credit: Sam Kittner/Kittner.com for Arlington Transportation Partners